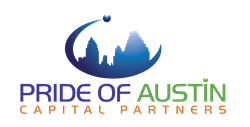 San Antonio, Texas (PRWEB) October 08, 2013
The owners of the local Elite gymnastics training company broke ground earlier this month at the future site of a $4.3 million gym and training facility that will be the largest of its kind in the state. Austin-based private commercial lender Pride of Austin Capital Partners helped by financing the construction of the facility with a $3 million asset-based loan.
David Brambila and Jill Oxford, owners of Powerhouse TNT gymnastics, plan to open their new 40,000 square foot mega-gym by January 2014 at the northwest corner of Loop 1604 and Oscar Wood Place in San Antonio. The new facility will have the capacity for 2,000 athletes and it will meet standards allowing it to host state and Regional meets.
Four years in the making, Brambila and Oxford's plans for their dream gym were almost derailed when, despite the business's successful history, multiple banks had turned down the project.
"We never expected it to be as difficult to get financing for the building as it was. Several banks looked at the project but acted with caution since there it is a very large facility being built from the ground up," Oxford said. "We were finally introduced to Pride of Austin Capital Partners, who recognized our potential when they looked at our plans and our history. They worked with us and had confidence in us."
Oxford and Brambila started Powerhouse TNT in 2005 with 34 clients in their current gym located at 10229 Culebra Road. The company grew rapidly through word-of-mouth, said Brambila, and soon their facility was bursting at the seams.
"This gym will make it easier for our coaches to help our athletes reach the elite level. And spectators will have a great viewing area to watch the athletes perform," Brambila said. "Our athletes have competed at an elite level in many national competitions and their distinctions include several first place finishes. One of our athletes competed on the Senior team at World Championships which finished second, one tenth of a point behind the Russian team."
The new facility is designed specifically for gymnastics, and will house specialized equipment, and a large foam pit area to allow athletes to practice risky dismounts.
Powerhouse TNT plans to make its new facility available to a diverse group of sports, including cheerleading, karate and dance.
"We would like to open our facility to the school district so they may be able to utilize the facility also. Even a youth minister has talked to us about doing something for the youth on Sundays," Brambila said. "This gym will go a long way to help us accomplish our goal of making Powerhouse an important part of the development of the families and athletes in our community."
For information on how to invest in projects like this through Pride of Austin, visit http://www.PrideofAustin.com/Investors.
If you're a borrower, learn how Pride of Austin can fund your real estate development project here: http://www.PrideofAustin.com/Borrowers.