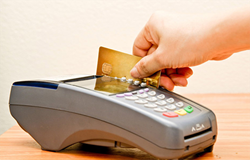 We are committed to helping expand businesses by accessing the capital necessary to achieve business goals.
San Diego, CA (PRWEB) January 27, 2014
VMS Capital announced today it has added Merchant Services to its line of financial and lending services for small business. Partnering with a new Merchant Services provider, VMS Capital expects to be able to save their clients hundreds if not thousands of dollars each year in credit card processing transaction charges and fees.
"Most consumers regularly switch their Cable TV, Internet, and Wireless service providers to save money and achieve better quality service, yet few small business owners consider switching their credit card processing service provider to achieve similar cost reduction and savings," states Rob Stoddard, Vice President of Marketing at VMS Capital. According to Stoddard, "credit card transaction fees and charges are one of the largest expenses incurred by small and medium-size business owners, with credit card transactions representing 70% of total sales revenue for most small businesses. Yet small business owners never stop to consider whether they are overpaying for their credit card transaction processing primarily because creative pricing structures make it virtually impossible to compare costs between different credit card processing providers."
Through their partner provider, VMS Capital is also able to offer a Guarantee of Savings to small businesses' considering switching their credit card processing provider when a small business owner receives a competitive rate quote against their current credit card processing service provider's statement or invoice.
VMS Capital is a leading finance and lending solutions business located in San Diego, California. VMS Capital Connects Business with Capital by helping small business access the capital they need and deserve. They offer a multitude of creative financial products from traditional and non-traditional lending sources to help small business owners. VMS Capital offers numerous lending solutions for small business, including but not limited to commercial real estate loans, equipment purchase and equipment lease finance, unsecured lines of credit, small business loans and purchase order and contract finance. VMS Capital is not affiliated with Velocity Merchant Services (VMS) or VMS Processing.
For more information on the VMS Capital affordable Merchant Services product, or for information on their other finance and lending solutions services, visit their website at http://www.VMSCapital.com or contact them directly at (619) 795-9660.