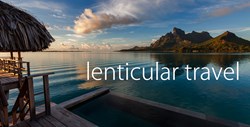 Help a traveler take better pictures and a photographer travel better
Los Angeles, CA (PRWEB) August 15, 2013
Lenticulartravel.com is focusing on the best photographic locations in the world and the ways to reach them in style. "Help a traveler take better pictures and a photographer travel better". That includes frequent flyer miles and points programs and photography tips and tricks. To celebrate the launch Lenticulartravel.com announces an attractive giveaway.
For next 3 weeks readers might visit lenticulartravel.com/giveaway/ and signup. The prizes include high value travel gift cards. The grand prize also includes an amazing quality print of the favorite photograph by Lenticulartravel.com chosen by the winner.
Lenticulartravel.com covers travels to the most amazing destinations with photography in mind
and shows how to:

fly to Patagonia to take one dream photo
go to Venice to capture the roof lines most other people haven't seen
stay in an amazing top floor suite which let you take incredible pictures without leaving your room
rent a helicopter to see a maze of blue shades of the most beautiful lagoon in the world
Readers will learn when and where to go to see a wonderful sunrise, where to find the best light and the best views, what best hotels and best rooms to choose. Lenticulartravel.com shares how to enjoy a slow pace and admire what's still left pristine and untouched. Time is running out…
"There is the entire world out there and it's changing very rapidly. Slow down! Take some time to enjoy the unique locations you are able to visit. Many people don't have that chance. That's why photography is such a big part of our life. It pushes you to see the most beautiful views in the best light. It pushes you to wake up early morning to catch a great sunrise. Tourists rarely show up early. Don't be a tourist, be a traveler, an observer, save your memories for ever and trust me, photography is a great way to do it!"