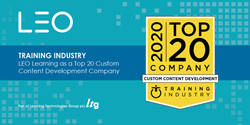 We're very pleased, and proud, to be recognized as one of the top 20 custom content development companies for the fourth year in a row.
ATLANTA (PRWEB) June 26, 2020
LEO Learning, the market leader in global learning strategy, content and technology, has earned recognition as a 2020 Top 20 Custom Content Development by Training Industry. The Top 20 list assesses the corporate training marketplace to inform professionals about the best and most innovative providers of training services and technologies.
"We're very pleased, and proud, to be recognized as one of the top 20 custom content development companies for the fourth year in a row," said Andrew Joly, LEO Learning's Director of Strategic Design.
"While we deliver a broad array of custom training and distance learning services across many sectors, we continue to focus on innovation, adaptability and flexibility of solution, based on our clients' rapidly changing needs. We are a genuine transformation partner for our clients."
The 2020 Training Industry Top 20 Custom Content Development Companies List was based on the following criteria:

Industry visibility, innovation and impact.
Capability of developing and delivering multiple types of content.
Depth and breadth of subject matter expertise.
Company size and growth potential.
Strength of clients and geographic reach.
"This year's Top 20 Custom Content Development Companies are creating unique solutions by developing customized training that aligns with an organization's business objectives," said Ken Taylor, president of Training Industry, Inc. "These engaging learning experiences are supported through the latest learning technologies, such as virtual and augmented reality, simulations, and artificial intelligence. Through their expertise in developing learning content for an array of modalities, these companies offer comprehensive solutions for a variety of learners."
The recognition follows a number of other recent awards from Training Industry, including LEO ranking on the 2020 Top 20 Training Outsourcing Company (also 2019), 2019 Top 20 Content Development Company (also 2017/18), as well as the 2019 Top 20 Gamification Companies List.
See the full 2020 Top Custom Content Development and Watch List.
Ends/
About LEO Learning
LEO Learning believes that technology-enabled learning innovation has the power to deliver transformational results. Our purpose is to help clients deploy learning technology to deliver outcomes precisely aligned to their business goals. Backed by more than 30 years of experience, we design engaging learning architectures that fit seamlessly into businesses and improve performance throughout the entire organization.
LEO Learning has the deep understanding of learning design and technology, and pioneering creative approach, necessary to drive learning transformation.
LEO Learning's expanding global customer base includes organizations such as the NHS, Civil Service Learning, Jaguar Land Rover, Visa, Volvo, Suncorp, Fidelity, Virgin Atlantic, Novartis, Godiva, Volkswagen, Dunhill, KPMG, Roche, and Mars.
LEO Learning is part of Learning Technologies Group plc's award-winning group of specialist learning technology businesses.
For more, visit leolearning.com.
About Training Industry, Inc.
Training Industry is the most trusted source of information on the business of learning. Our authority is built on deep ties with more than 450 expert contributors who share insights and actionable information with their peers annually. Training Industry's live events, articles, magazine, webinars, podcast, research and reports generate more than 5 million industry interactions each year, while the Top 20 Training Companies Lists help business leaders find the right training partners. For a complimentary referral, visit https://trainingindustry.com/rfp.