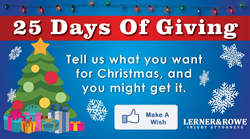 We love granting these wishes. Twenty-five days of giving certainly isn't enough to cover all the gratitude we have for our communities
PHOENIX (PRWEB) November 28, 2018
Lerner and Rowe proudly announces another year of their 25 Days of Giving Contest! So, think of a few of your favorite things. Our elves are waiting to grant you your wish!
Lerner and Rowe make it easy to enter this exciting contest. Follow these simple rules.
Go to Lerner and Rowe's Facebook page.
"Like" it!
Tell us your wish by leaving a comment on a contest post.
Share the post publicly, on your personal Facebook page.
You must be 18 years old to enter or have a parent or guardian's permission.
Be a legal resident of Arizona, New Mexico or Tennessee
Agree to the terms of these official rules.
From there, our mystical holiday elves scour the wishes to randomly choose a winner and then announce their name! This year, we already gave away a bunk bed, Playstation, dishwasher, and more. We even do two giveaways on Tuesdays. Your wish could be one of them!
"We love granting these wishes. Twenty-five days of giving certainly isn't enough to cover all the gratitude we have for our communities," said Kevin Rowe.
25 Days of Giving began on November 23 and runs until December 17. To check out the official rules, head to our website. While you wait, we hope you and yours have a wonderful holiday season.
More about Lerner and Rowe
If you are in need of a personal injury lawyer, look no further than Lerner and Rowe. We want to help you whenever you might need. Contact us today at (844)977-1900, or connect with us socially on Facebook and Twitter.