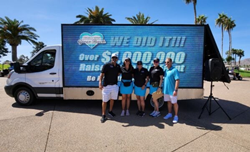 We are excited to see the positive impact the $1,126,718.56 collected will make throughout the state of Arizona.
SCOTTSDALE, Ariz. (PRWEB) May 18, 2023
Lerner and Rowe Gives Back, the nonprofit arm of the award-winning law firm Lerner and Rowe Injury Attorneys, raised nearly $1.13 million to support the local community at its 10th Annual Lerner and Rowe Charity Golf Classic – a record for the golf tournament, just in time for its decade-long anniversary.
The Charity Golf Classic, hosted on Friday, April 28 at McCormick Ranch Golf Club, raised funds for local charitable programs throughout Arizona. Charities benefitting from the Golf Classic include Phoenix Children's Hospital, PANDA, Military Assistance Mission, Boys & Girls Clubs of Greater Scottsdale, Amanda Hope Rainbow Angels, Fiesta Bowl Wishes for Teachers, and more.
"Lerner and Rowe Gives Back has a similar philosophy to the Fiesta Bowl Organization," said Jose Moreno, Chief Marketing Officer at The Fiesta Bowl. "Our commitment to the community is the backbone of our mission. We feel extremely grateful to have continuous support from the Lerner and Rowe Gives Back Team. Our Wishes for Teachers charity donates $1 million annually to teachers across Arizona and would not be possible without their generous donations."
Since its inception in 2013, the Lerner and Rowe Charity Golf Classic has raised more than $3.75 million for local charities.
"We are more than humbled by the amount of money that was raised this year and how the golf classic turned out," said Kevin Rowe, founder of Lerner and Rowe Gives Back and founding partner of Lerner and Rowe Injury Attorneys. "Coming together with our team members, sponsors, and donors to support the surrounding communities has been an amazing experience. We are excited to see the positive impact the donations will make."
2023 sponsors of the tournament and its ongoing commitment to the state's most worthy nonprofit organizations included Redirect Health, Injury Chiropractic, Advanced Physical Medicine, APM Surgical Group LTD, Auto Pros Collision Center, Lovitt & Touché, Fusion Rehabilitation, REW Materials, LKL, Puravida Chiropractic, Valley Surgical Resources, Thrive Services Group, Arizona's Family, Fiesta Bowl, LAMAR and Oasis Financial. Hole sponsors included Steak 44, Ocean 44, Precision Integrative Care, the Phoenix Suns, Premier Strategy Group, Chicago Phoenix Club, Albuquerque Accident & Injury Clinic, Tezcazul Tequila, Cadence Surgical Solutions, Land Rover, AZ Hometown Law Firm, Luxury Auto Collection, iHeart Media Inc., Charity Golf International, Powers Law, Prove Partners, Illinois Special Olympics, Move Docs, Outfront, and Metro Auto Auction.
The charity event also included swag items for each golfer, raffle drawings, a drone golf ball drop, surprise entertainment by famous comedian Adam Ray, breakfast catered by the McCormick Ranch Golf Club, and local food trucks, including Cold Beer & Cheeseburgers and Mister Softee.
About Lerner & Rowe Gives Back
Lerner and Rowe Gives Back is a charitable organization founded by Kevin Rowe, managing partner of Lerner and Rowe, P.C. Lerner and Rowe Gives Back is a nonprofit organization dedicated to extensive and various community outreach programs. The idea was inspired by the 2000 movie "Pay it Forward." Lerner and Rowe Gives Back believes in paying forward the success the firm has achieved through the newly established foundation and team of employees. They work to advance the missions of community organizations that serve children and families struggling from the aftermath of the recent economic downturn. Visit lernerandrowegivesback.com to learn more about how Lerner and Rowe earned the reputation for being more than just a law firm through the many community services its lawyers and legal support team actively support.
About Lerner & Rowe Injury Attorneys
Lerner and Rowe Injury Attorneys is a powerhouse law firm in representing personal injury clients. Attorneys Glen Lerner and Kevin Rowe have grown their law firm into one of the largest personal injury firms in the country, with over 400 legal professionals around the country ready to help you 24/7, anywhere in the US. The law firm's continuous exalted levels of success can be attributed to the high levels of respect and dignity shown to victims and family members hurt in an accident.
For those injured outside of Arizona, Indiana, Illinois, Nevada, California, New Mexico, and Tennessee, Lerner and Rowe has an established network of attorneys across the country, ready to help. The firm takes pride in nourishing these relationships as they know a personal injury attorney can make all the difference in obtaining fair compensation for the pain and suffering inflicted upon the victims of tortious conduct. For more information about Lerner and Rowe Injury Attorneys in Phoenix, please call 602-977-1900.
To connect with the law firm socially, follow Lerner and Rowe on Twitter, TikTok, and Instagram, or like their Facebook page.
###