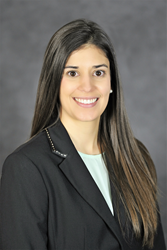 West Palm Beach, Florida (PRWEB) March 15, 2016
Lesser, Lesser, Landy and Smith is pleased to announce the addition of a few new important members to the team, including an Associate Attorney, a Director of Communications, a Legal Administrator and an Of-Counsel Attorney.
Laura E. Scala is the firm's newest attorney. She joined the firm at the end of 2015. Laura is focusing her practice on personal injury, premises liability, motor vehicle and wrongful death cases. She earned her Juris Doctorate from the University of Miami School of Law. Born and raised in West Palm Beach, Florida, Laura's mother is a Palm Beach County Judge, and her father is a criminal defense attorney.
Laura began working as a law clerk at Lesser, Lesser, Landy & Smith in the summer before her third year through the Palm Beach County Bar Association's Diversity Internship Program. Laura is also very involved in the community. Continuing her lifelong interest in soccer, Laura is the Game Scheduler and Assistant Director of Marketing and Sponsorship for AYSO's National Games Tournament. She is also involved with the Palm Beach County Bar Association and The Palm Beach County Chapter of the Florida Association for Women Lawyers (FAWL). Laura was a panelist for the law student session of the annual Palm Beach Bench Bar Conference in February.
Sydnee Newman is the Director of Communications for Lesser, Lesser, Landy and Smith, and she joined the firm in December 2015. Sydnee graduated from the University of Florida in 2010 with a B.S. degree in Journalism. She has been in the legal marketing industry for four years.
Sydnee is an avid networker and very involved in her local community, including being the volunteer Director of Communications for JRC Charitable Foundation, outgoing Chair for hYPe Young Professionals of the Northern Palm Beach County Chamber of Commerce, hYPe Steering Council Member, Professional Development Committee Member for the Women's Foundation of Palm Beach County, Outgoing Chair for Elite Business Associates (EBA) of Palm Beach Gardens and Outgoing Regional EBA Director. In 2014, Sydnee was a candidate for The Leukemia & Lymphoma Society's Woman of the Year.
Joanne Klemow joined Lesser, Lesser Landy & Smith in January of 2016. She is the firm's Legal Administrator. Joanne received an A.S. degree from Miami Dade Community College in 1977. She later went to Fort Lauderdale College where she focused on Accounting, Management and IT.
Joanne has been in the legal industry in South Florida for more than 30 years honing her skills in positions such as a Legal Administrator, MIS Director, Chief Financial Officer, Administrative Counselor & Educator, and Business Consultant. She has served on the Board of Directors-Contemporaries, Support Group for the Museum of Art; Board of Directors-Bright Lights, Support Group for Multiple Sclerosis; Association of Legal Administrators; President of Boca Raton Chapter of Association of Legal Administrators; President of Legal Administrators Group, Ft. Lauderdale, and Membership Director of Association of Accounting Administrators. She has also been a member of Society for Human Resources Management for a number of years.
Lloyd A. Comiter brings to the firm more than 20 years of representing Florida clients in significant commercial and civil litigation matters and a reputation for giving individualized service, making him a valued member of our team. Lloyd was born in Philadelphia, Pennsylvania and moved to South Florida in 1967, joining the Firm "Of Counsel" in September 2011.
Working from the Boca Raton office, Lloyd will continue to handle all aspects of civil and consumer litigation, including pre-suit negotiations, post-judgment collection efforts, commercial and residential landlord/tenant litigation, small claims court litigation, and contract negotiations all over South Florida. As a Florida Supreme Court Certified County Court Mediator, Lloyd is able to conduct mediations throughout the State of Florida. Lloyd currently serves on the Florida Bar Small Claims Rules Committee where he previously served for 6 years and is a former Chair. Additionally, he is serving his fifth term as Chair of the Palm Beach County Bar Association's Small Claims Court Clinics Committee. Lloyd has lectured extensively on the topic of small claims court and has appeared on public television discussing small claims court and mediation.
About Lesser, Lesser, Landy & Smith, PLLC
Lesser, Lesser, Landy & Smith was established in 1927, serving its clients throughout Florida for generations. It is the third oldest law firm headquartered in Palm Beach County. The firm focuses on serious personal injury and wrongful death cases. All of the firm's clients are referred by current and former clients, lawyers and other professionals and friends in the community. Lesser, Lesser, Landy and Smith handles cases all over the State of Florida, with offices in Palm Beach, Boca Raton and Stuart.