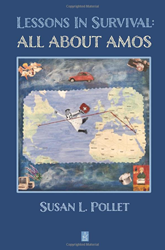 Amos made an art of learning to survive, thrive, and of never succumbing to bitterness.
NEW YORK (PRWEB) August 15, 2019
In this sometimes cruel world, we need to read a book which inspires one to cope and to do better. "Lessons in Survival: All About Amos," is that book. It is the life story of Amos who was born in Haifa, Israel, raised in post-World War II Germany under difficult financial circumstances and with parents who suffered the effects of having been in concentration camps. He managed to succeed against all odds, despite having been the only Jewish boy in his school classes amongst seven hundred students.
Amos eventually moved to New York City where he became a board-certified doctor, a professor at a major medical institution, an international lecturer, a published author of numerous peer reviewed journals and a few popular books written with celebrities, a holder of several patents, and the creator and operator of major medical websites.
He overcame the challenges of the loss of family in the Holocaust, traumatized parents, poverty, his own ill health, divorces, and the loss of many friends to suicide in Germany and in the United States. Amos's life story is inspirational for anyone who has major life challenges, which includes a wide audience as evidenced by Oprah's popularity. Amos is a unique and fascinating personality. The book explains how he dealt with his family's dark and tragic history, and how his strong spirit, and the lessons learned from his parents, allowed him to survive, thrive, and to never succumb to bitterness.
"Lessons in Survival: All About Amos," by Susan L. Pollet and published by Adelaide Books, is available on Amazon.com, Kindle, Nook, and other electronic platforms.
About the Author
Susan L. Pollet lives in New York City, and is a writer and artist. This is her first book, and she designed the cover for it. Her empathy for people in challenging circumstances comes from her having been a lawyer for forty years, primarily in the area of family law. She was a frequent contributor to legal publications on varied topics, including family and criminal law. She was President of the Westchester Women's Bar Association, Vice President of the Women's Bar Association of the State of New York, Executive Director of Pace Women's Justice Center, Director of the New York State Parent Education and Awareness Program, and a prosecutor. She has a strong desire to provide the public with information about interesting people's lives who give us hope. Her next book entitled "Women in Crisis: Stories from the Edge," will be published in June of 2020.
Contact: Susan.L.Pollet@Gmail.com