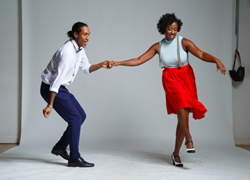 Culture Days is a true testament to the incredible creativity Ontario has to offer!
TORONTO (PRWEB) September 20, 2018
Culture Days is a chance to fuel the artist within. Whether you've painted nothing other than a wall or danced en pointe before walking, Culture Days presents an opportunity to immerse yourself in the world of arts and culture waiting right outside your door. Venture out Friday, September 28th to Sunday, September 30th to experience an array of free events and activities designed to spark the desire to express yourself all year long.
Just what can participants experience in over 165 cities and towns across Ontario during Culture Days weekend? Peek behind the curtain at an open theatre rehearsal or sit in on a class at the National Ballet. Join a photography excursion or learn to make a steel pan sing. Play until night turns to day at Nuit Blanche or explore Indigenous traditions at a Jingle Dress ceremony.
The signature diversity of Culture Days goes beyond the activities and events available. Over 90% take place outside Toronto and for the first time, Ontario Culture Days has earmarked more than 40 official hubs and corridors across the province. Hubs and corridors are cultural hotspots where participants can discover a variety of programming all in one spot. Getting around is now easier too with a new program of travel itineraries called Culture Trek. Created with input from local partners, each one highlights key events along recommended travel routes along with great places to eat, sleep, and explore. Itineraries are available for St. Catharines, Durham, and Muskoka regions with plans to add more localities next year.
Many activities incorporate this year's theme called OnBeat, with foot-stomping ways to celebrate the universal appeal and presence of rhythm. Leading art institutions, such as the National Gallery of Canada, Gardiner Museum, Stratford Festival, National Arts Centre, join libraries, community groups, art schools, and studios open their doors to make Culture Days a time of unprecedented access for every age, skill level, and interest. Search by activity type, geography or date to find what speaks to you.
"In Ontario, a weekend to celebrate arts and culture has been embraced by communities large and small. It's a chance for everyone to explore their own artistic passions and support the local arts and culture sector at the same time. Culture Days is a true testament to the incredible creativity Ontario has to offer!"
— Ruth Burns, Executive Director, Ontario Culture Days
Culture Days lets you experience, celebrate, and share your love of arts and culture across Canada. We encourage all Ontarians to venture out this weekend to the beat of their own drum!
Visit on.culturedays.ca to learn more and find activities happening near you and use Culture Trek to map your route and more.
Follow us and watch Ontario Culture Days weekend unfold: Twitter Instagram Facebook

For media inquiries please contact:
Mercedes Findlay
416.557.3361
mercedes(at)mercedesfindlayconsulting.ca
About Ontario Culture Days
Culture Days is a national weekend to celebrate arts and culture, which each year attracts more than 2 million attendees to thousands of free activities and performances hosted by artists, cultural, organizations and municipalities in 800 communities across Canada. In the province of Ontario, this weekend celebration is led by Ontario Culture Days. Working collaboratively with its national and provincial partners, each year Ontario Culture Days draws over 500,000 attendees, and 135,000 artists, workers and volunteers in 165+ cities and towns across the province. Since 2010, it has contributed over $50 million to Ontario's tourism economy.
2018 is proving to be a banner year for the organization, which is on track to have the greatest number of registered events in the history of Culture Days in Ontario, and has launched new partnerships with the Aga Khan Museum, Nuit Blanche Toronto and the Toronto Centre for the Arts.
Culture Days is made possible with the support of the Province of Ontario and the Ontario Arts Council.