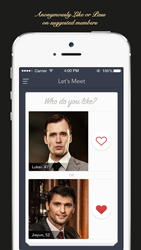 Los Angeles, California (PRWEB) August 28, 2015
When someone is using a dating site, his biggest concern probably is when he'll be able to find his love there. How long does it take before that happens? The answer may depend on various aspects, the amount of time he spends on the site, the way he communicates with others, the features he uses, etc. A few days ago, the prestigious millionaire dating site MillionaireMatch.com did some research about one of its features called Let's Meet. This unique feature turns out to be much more efficient than the old-fashioned "search and chat" pattern.
Almost every dating site provides this function: It lets users search and display a list of profiles based on users' searching criteria. Say user A does such a search. He finds user B in the list. He really likes her. He initiates a conversation with her, hoping that she will like him too. Sadly, that's not often the case. She finds him unattractive and won't even answer his messages. He stops communicating with her. His first attempt fails.
To make the process less painful, MillionaireMatch came up with "Let's Meet". Based on the user's location, Let's Meet presents two other users to let the user decide whether he likes or dislikes them. If he likes one of them, he can tap the heart icon on the profile picture. If he likes neither of them, he can swipe left or right to pass, and 2 new profiles will come up for his consideration. The one he likes or dislikes will not know because any action made in "Let's Meet" is anonymous. When someone he likes likes him back, they will both be notified by the system that they're a match. They can start chatting right away.
According to the data revealed by MillionaireMatch, those who use "Let's Meet" have a much higher chance of finding a partner. If two users become a match in Let's Meet, the percentage of them ending up together is almost 20 times as the old "search, email and message" way.
"Not knowing what the other thinks about you is one reason why many people shrink from being spontaneous on dating sites," said Brian, MillionaireMatch marketing representative. "With Let's Meet, the problem is solved, because sending messages is available only when two users have already liked each other. Neither of the two needs to worry about that awkward moment when the other says no."
MillionaireMatch was started 14 years ago with the goal of serving a very exclusive, elite clientele of rich and attractive men. Members include CEOs, pro athletes, doctors, lawyers, investors, entrepreneurs, beauty queens, super models and Hollywood celebrities who are all seeking millionaire dating opportunities and a serious, long-term relationship. The MillionaireMatch app is now available on the App Store and Google Play Store.