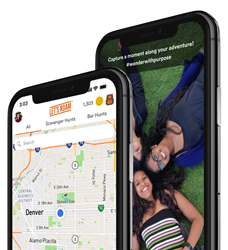 "AI is the future, and we will continue to make improvements to our app that not only reflect the times, but surpass it," says Michael Harding
DENVER (PRWEB) March 14, 2020
As thought-leaders in the world of travel and exploration, Let's Roam has pushed the envelope once again by introducing artificial intelligence to their scavenger hunt activities, to enhance the game element of the tour for every player. The company's proprietary "Fox Vision" technology categorizes user generated images and validates the content through machine learning. This provides immediate feedback to players and adds bonus points for creativity using internal scoring methods - upping the gamification and enhancing the overall scavenger hunt experience. For example, if the challenge asks the user to take a picture of a penny, Let's Roam's "Fox Vision" technology will validate whether the user actually captured a penny and will reward points based on its verification of the photo.
Implementation of this new AI feature grew from Let's Roam's mission to use technology as a tool for connection and exploration. "AI is the future, and we will continue to make improvements to our app that not only reflect the times, but surpass it," says Michael Harding, co-founder of Let's Roam. Based on internal testing, Let's Roam estimates that their machine learning is 99% accurate with even the most obscure content, (i.e recognizing human emotion, different animal species and heights on city buildings).
This new feature is now available in all Let's Roam Scavenger Hunts, immediately impacting over 400 cities worldwide. Download the Let's Roam App and play the free daily challenges to get a sample of what you'll experience on a longer scavenger hunt.
About Let's Roam:
Let's Roam is the world's #1 scavenger hunt company, perfect for team builders, bachelorette parties, birthdays, or simply a day on the town. With over 400 locations worldwide, our tour-guide-free scavenger hunts are the best way to have fun and explore any city. Let's Roam has over 5,400 reviews and 4.8 star rating on the iOS app store.
Let's Roam provides anytime scavenger hunt tours for small groups. They also provide custom team building scavenger hunts in all their cities.
We focus on connection through exploration, creating new ways for people to see the world, create memorable experiences, and meet new people. Our mission is to reimagine the way people explore and connect, at home and abroad.
Media photos and screenshots of machine learning are available in our press kit.
Contact:
Emily Byer
Director of Marketing
Press@letsroam.com
http://www.letsroam.com
Interview Inquiries: 720.773.0785