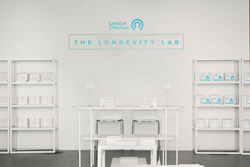 LetsGetChecked will be joined by Bantamweight UFC champion TJ Dillashaw for the keynote speech "Your Health Is Your Wealth."
NEW YORK (PRWEB) November 01, 2018
Accessible healthcare, once a dream for New Yorkers (and Americans, alike), is now becoming a reality thanks to the launch of the 'Longevity Lab' from LetsGetChecked, the medical technology platform that helps track, monitor and improve your health from home.
On November 1st, LetsGetChecked will tackle two of the biggest killers in the U.S, cardiovascular disease and diabetes, with free testing on 198 Allen Street, NY 10002 from 8AM-8PM. A reported 987,000 New Yorkers have diabetes and cardiovascular disease is responsible for a third of all deaths in the U.S. every year with one American dying every 38 seconds of cardiovascular disease.
LetsGetChecked will be joined by Bantamweight UFC champion TJ Dillashaw for the keynote speech "Your Health Is Your Wealth." Other headline speakers in attendance will include Joe Holder, founder of the Ocho System, Ana Snyder, NYMMG fitness model, Nitika Chopra, TV Host, Nicole Loher, Adidas Ambassador and Conor Beaton, founder of ManTalks.
The launch strives to empower New Yorkers to start their health journey, and take control of their future through at home health testing. Peter Foley, founder of LetsGetChecked says: "This launch showcases only a small portion of the at-home tests we have to offer, however, when it comes to taking control of our health, we all need to start somewhere. Preventative healthcare is the only healthcare approach we should be taking in today's busy world."
What can New Yorkers expect from the Longevity Lab?
The activation will attract health advocates, influencers, the media and the general public in with dry ice fog and a futuristic aesthetic in keeping with the cutting edge nature of the product.
Throughout the day, special guests will be speaking on the topic of 360-degree wellness. Attendees are invited to speak to the LetsGetChecked medical team about their symptoms, partake in the free cholesterol and diabetic testing and get their hands on a complimentary at-home personal health test, allowing them choose which aspect of their health they would like to test from home.
The evening will close with a talk from LetsGetChecked's most well known brand ambassador TJ Dillashaw and a networking hour. LetsGetChecked is making it possible to track, monitor and improve your health in New York and further afield. It's good to know.
About LetsGetChecked:
Founded in 2014 by Peter Foley, LetsGetChecked is a medical technology platform which provides connectivity between its customers and its network of global laboratories for personal at-home health testing. By empowering people to use technology to better control their health, LetsGetChecked is revolutionizing healthcare by making it open and patient-led. LetsGetChecked is headquartered in New York, Toronto and Dublin, with more than 30 tests from fertility and hormonal testing, to cancer screening and general wellness tests, taking a 360 degree approach to overall well-being . Visit LetsGetChecked.com to view the products.