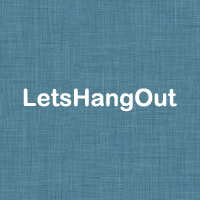 With a memorable name like 'Lets Hang Out', not many people are going to forget the name of this dating site. It's going to be very, very popular.
LOS ANGELES, CA (PRWEB) September 21, 2016
LetsHangOut announced the launch of a new online dating site and social network for singles. Marketing studies show that online dating is hugely popular, yet users are frustrated with increasingly more expensive upgrade costs. LetsHangOut.com is designed to offer a completely 100% free "full-featured" site for dating singles, with no upgrade costs.
"I could pay $20, $40 and even $60 or more per month on one of the many dating sites out there in upgrade charges, but I can use everything on LetsHangOut for free," said one user. Throughout the industry, many dating sites allow basic accounts for members at no cost, but will require users to pay an upgrade charge to use many of the most popular features. LetsHangOut is different in that all the "upgrade" features are available to everyone for free, while the revenue will be generated by 3rd-party advertisements.
LetsHangOut.com accepts users from all around the globe - men and woman who simply want to casually hang out, date, chat, or make friends, along with those seeking a long term romance and marriage. Users can search for others by zip code, state, country, age, race and other basic criteria. In addition, users can search for members based on their political views, religious views, exercise habits, sex habits, shared interests, keywords, personal hygiene and more specific criteria.
"After reviewing the site, I would have to say that LetsHangOut looks similar to PlentyOfFish and also OkCupid. It is very easy to use and full of rich features and searching capabilities. I like getting the full package without being required to pay upgrade fees." said another beta user. PlentyOfFish (POF) is currently the largest online dating site in the world and was completely free for a time. However, POF recently changed ownership in 2015 and has been transitioning towards a "paid" model in more recent years, requiring upgrade fees of up to nearly $20 per month in order to use many features, some of which used to be free.
LetsHangOut also has a question-matching algorithm similar to OkCupid, another highly popular dating site. Users answer a wide variety of multiple choice questions, and their answers are compared with all other members around the world who answered those same questions – with user-defined weight given to each question. "It's a highly dynamic and accurate matching algorithm, which allows users to sort through a list of matched users from around the world based on their personal views and habits, a list of potential partners tailored just for them," said the spokesperson from LetsHangOut.
"Our new dating network LetsHangOut.com just launched, so membership is quite low. Although with a memorable name like 'Lets Hang Out', not many people are going to forget the name of this dating site. It's going to be very, very popular." said company spokesperson. "The retention rate will be enormous and the word is going to spread like a wildfire."