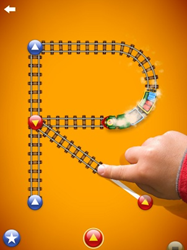 Hoofddorp, The Netherlands (PRWEB) June 16, 2014
LetterSchool makes handwriting cool. The educational game app teaches children aged 3 to 7 how to write, in a fun and effective way. LetterSchool has won many educational awards and is used worldwide, at home and in the classroom. Sanoma has now also launched the award-winning educational app in the Google Play Store in response to the growing market share of Android devices. Now all children can learn to write through play with LetterSchool.
LetterSchool offers an original and creative way of teaching children how to write. Thanks to the simple, playful and colourful design, this educational game app is suitable for every child. Children's attention is held by the wide variety of games as well as the whistling steam trains, humming lawn mowers and furry animals. The surprising sound effects, funny hints and attractive animations mean children will keep playing and keep improving their handwriting.
The app lets young children practise each letter or number in four steps, combining different learning approaches. They play every letter and number once, then play them again in the more challenging second level. To put their acquired skills to the test, players write their very own letters in the final level of the writing game. This way, young players are completely free to explore the mysterious world of letters and numbers in their own intuitive way.
Experts and parents love the handwriting game LetterSchool. LetterSchool has already won many educational awards like the Best Educational Game, Best Educational App and Teachers With Apps. "LetterSchool is highly engaging for students and is well worth the cost for parents, teachers and therapists working with children learning letters and numbers and their formation," says Carol Leynse Harpold, Occupational Therapist and Assistive Technology Practioner. A list of the app's awards and experts' reviews is available at LetterSchool.com.
Download LetterSchool now in the Google Play Store or
iTunes AppStore.