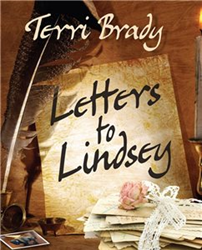 These letters are meant to...always to leave the reader and the writer changed.
Cary, NC (PRWEB) February 19, 2015
Author Terri Brady's first book, 'Letters to Lindsey,' based on her blog (letterstolindsey.com), recently won a Bronze Medal in the Keepsake/Gift/Specialty Bible category of the 2015 Illumination Book Awards.
Hosted by Jenkins Group, the Illumination Awards celebrate and recognize exemplary Christian books. Awards Director Jim Barnes says, "The Bible was the first 'self-help' book, filled with stories meant to show us how to live together in peace. These awards are dedicated to that spirit, and to books that help answer the simple question: 'What Would Jesus Do?'"
According to Terri Brady's husband, 'New York Times' bestselling author Chris Brady, Terri is "humble to the core" and was hesitant to write, even though she had been a speaker for nearly twenty years and many people had requested that she write a book. With the encouragement of one friend in particular, Lindsey Spiewak, she finally started a blog, writing in the form of letters—thus the title 'Letters to Lindsey'—from one woman "blossoming in motherhood and faithful living" to another on the same journey. Although the blog quickly gained popularity, receiving tens of thousands of hits per month with readers in 134 countries at the time of the book's publishing, Terri still dismissed people's suggestion of publishing a book, saying that her husband was the writer in the family. So her husband started the project without her knowledge, taking it "from conception to rough draft, including artistic layouts and concepts," in order to get it to the point where she could no longer humbly dismiss the idea. He says that once Terri accepted the notion of publishing her own book and got involved in the process, the "flair of her input" took the original concept "to entirely new heights" and turned the book into "a true work of art." In the author's own words about the "letters" in her blog and book, the "letters are meant to vent, challenge, or simply entertain, but always to leave the reader and the writer changed."
'Letters to Lindsey' was published by Obstaclés Press, the publication arm of LIFE Leadership, and released through the AGO Series. All of the corporate profits from the series are donated to All Grace Outreach, a 501(c)(3) charity that focuses on spreading the gospel of Christ and helping abused, abandoned, and distressed women and children.
A complete list of the 2015 Illumination Book Awards winners can be seen here.
About Terri Brady:
Terri Brady is a former engineer, a brain tumor survivor, a business owner, a leadership speaker to tens of thousands around the world, and the author of the blog 'Letters to Lindsey,' the basis for her award-winning book. She and her husband, 'New York Times' bestselling author Chris Brady, are cofounders of the personal and professional leadership development company LIFE Leadership. But her favorite title is "Mom," and she can usually be found cheering on the sidelines of a soccer field. She has said that she is solar-powered, has an insatiable love for music, is known to be persuaded by chocolate and coffee, and seeks most to glorify God and enjoy Him forever. Terri and Chris live in North Carolina and have four children.
About LIFE Leadership and Obstaclés Press:
Obstaclés Press is the publication arm of LIFE Leadership, an organization dedicated to helping those who want to achieve the greatest life results possible through consistent personal and professional development and the application of proven principles and cutting-edge methodologies. The books that Obstaclés Press publishes are integral components of the products and services that LIFE Leadership offers in order to achieve its mission of helping others live the lives they've always wanted. LIFE Leadership cofounders Orrin Woodward, Chris Brady, Tim Marks, Claude Hamilton, Dan Hawkins, Bill Lewis, George Guzzardo, and Rob Hallstrand travel the globe speaking to groups everywhere and teaching people how to succeed in their personal and professional endeavors.