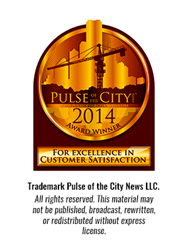 Many pool owners think that closing the pool means simply covering their pool in winter. Improper closing causes damage to equipment, which sometimes destroys their investment while also increasing maintenance costs
Hillsborough, NJ (PRWEB) July 22, 2015
The founders of Levco Pool & Spa Inc., a company that offers pool renovation in New Jersey, are pleased to announce that they have just won an award. Based on the independent research of The Pulse of the City News, the pool building company has won the coveted STAR AWARD. The award, which was based on the independent research of The Pulse of the City News, recognizes Levco Pool's ability to combine superior construction products with an excellent focus on their customers.
The fact that Levco Pools would win such a prestigious award will not surprise the many customers who have worked with them over the years. Since the company opened in 1986, they have earned a well-deserved reputation for their top-notch pool building and general pool service in NJ.
"From the smallest of details to the largest most difficult projects, Levco Pools Inc. has consistently been the preferred provider of pool services in central New Jersey," noted a spokesperson for the company, adding that every project that Levco Pools undertakes must adhere to the highest standards that they have developed in over 28-plus years of being in business.
In addition to weekly maintenance services, pool renovation, poolscaping and fencing, the friendly and experienced team at Levco Pools also offers pool opening and pool closing in NJ.
"Many pool owners think that closing the pool means simply covering their pool in winter. Improper closing causes damage to equipment, which sometimes destroys their investment while also increasing maintenance costs," the company spokesperson said.
"Our pool closing service also includes adding a chemical coating and installing water plugs. We open and close hundreds of pools every year. Our experienced technicians ensure that your opening/closings are done right, preventing any unforeseen problems down the road."
Later this summer, when the temperatures begin to drop and it's time to say goodbye to another enjoyable swimming season, pool owners in New Jersey can schedule an appointment with Levco Pools to close and protect their investment properly.
About Levco Pool & Spa Inc.:
Levco Pool & Spa Inc. is a swimming pool builder with around 30 years of experience focusing in New Jersey, USA. They provide complete pool solutions, from installation to maintenance. For more information, please visit http://www.levcopools.com/