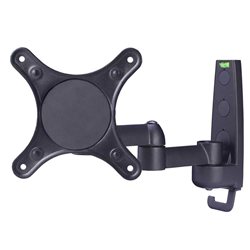 Consumer favorites such as Sony, Samsung, LG, Panasonic, Vizio, Toshiba, Sharp, TCL and a myriad of other television brands are all readily compatible with Level Mount TV Wall Mounts.
Palatine, IL (PRWEB) May 25, 2016
The Level Mount brand has long been touted as an industry defining solution for enhancing your television watching experience. By providing an abundance of versatility and convenience, TV wall mounts from Level Mount (by Elexa Consumer Products) offer a seamless approach to maximizing the amount of space surrounding any size or brand of television. The new online store called http://www.LevelMount.com (designed and operated by eCommerce company eAccess Solutions) showcases the full Level Mount brand line of TV mounts, desktop and projector mounts in an easily navigable and intuitively designed online format. The Level Mount Store allows consumers to purchase Level Mount products while being able to browse through a collection of instructional videos, online tutorials and FAQ's.
The Level Mount Store's online catalogue includes full motion, fixed and tilting TV mounts along with an array of other specialty mounts for projectors, tablets and PC's. The entire Level Mount line utilizes a unique do-it-yourself approach that allows owners to swiftly and easily install their TV Wall Mount to their preferred television of choice. Mounts come equipped with all of the necessary hardware and include a Built-in-Bubble that simplifies the method of measuring and locating the ideal installation spot on your wall. A minimal number of basic tools and a few short moments is all you need to begin your Level Mount experience. All Level Mount products are VESA compliant and feature a lifetime warranty. Level Mount also includes adapter plates or extender arms in all of its products to support non-VESA compliant TVs as well.
Consumer favorites such as Sony, Samsung, LG, Panasonic, Vizio, Toshiba, Sharp, TCL and a myriad of other television brands are all readily compatible with Level Mount TV Wall Mounts.
Cantilever Mounts are available for purchase at the Level Mount Store and serve as an excellent addition for owners of extra large televisions that exceed 100 lbs. Specialty wall mounts are also available as Desktop Mounts, Projector Mounts and Tablet Mounts. Specialty Wall Mounts borrow the same maneuverability properties featured in TV Wall Mounts and will allow owners to pivot screens for the optimal viewing angle.
"While small screens have multiplied, wall mounted TVs and flat panels still remain the primary focus for consumers in a home" says David Bean, CEO of eAccess Solutions. He would further reinforce the movement towards wall mounted TVs by pointing out the limitations presented by small screen TVs. "There's simply no small screen substitute that can mimic the experience of big picture and surround sound."
Larry Beger, CEO of Elexa Consumer Products would also suggest that homeowners would be limiting themselves by not utilizing their surrounding area to its fullest extent. "Today's open floor plans demand full motion wall mounts. The Level Mount team understands that there's only so much available space in any given room. We design mounts that maximize function within that space." The ability to drastically increase the amount of viewing scenarios in the home setting is exactly what makes a TV wall mount such an important purchase.
ABOUT ELEXA
Elexa, established in 1993, is the consumer products division of TWS Ltd., a technology company based in Hong Kong and China. Elexa has long-standing relationships with a wide variety of major retailers in the U.S. market.
ABOUT EACCESS SOLUTIONS, INC.
Founded in 2001 eAccess is a turnkey global eCommerce provider for high value brands. Our award winning eCommerce platform, highly rated customer service and diverse omni channel product marketing capabilities dramatically increase DTC sales for brands without creating channel conflict. Read more at http://www.eAccess.com