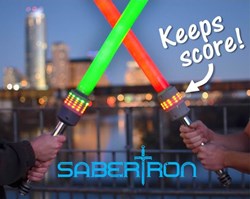 Sabertron allows players to have a foam sword fight but lets the swords keep score.
Austin, TX (PRWEB) February 04, 2014
LevelUp Incorporated launched a Kickstarter campaign on January 29, 2014 for Sabertron: Sword Play with Electronic Scoring, its first interactive gaming product. Sabertron is designed to bring the interactive gaming element of video games to the real world. The Kickstarter campaign runs until February 28, 2014 and hopes to raise $195,000.
The Kickstarter campaign has already achieved 20% of its funding goal and was covered by Engadget, Tech Crunch, Recode, and a tweet from Walt Mossberg. The Discovery Channel Canada is covering Sabertron as part of "Invent This" week on the Daily Planet television show.
Sabertron allows players to have a foam sword fight and lets the swords keep score. The swords have LED player health meters integrated into each handle. Each hit of the soft-touch foam sword against a player's body results in the loss of health on that player's health meter. Sword-to-sword clashes are not counted as a hit and are ignored. The player who runs out of health first loses.
Each Sabertron foam sword contains cutting edge wireless and motion tracking technology that makes it possible to determine when the swords have hit another player versus another sword. Players are not required to wear any special clothing.
The swords are intended to be high-end toys for adults and children utilizing quality-finished materials and high-strength polycarbonate core construction making them as light as possible. The Kickstarter rewards offered for successful funding of the project include a choice of lightsaber or medieval style set. In addition, backers who offer higher pledges are offered premium sword model choices.
"Sabertron has received an overwhelmingly positive response from fans during our pre-Kickstarter marketing campaign on Facebook. Our target audience is very excited about Sabertron and understands that it offers interactive scoring for a foam sword fight, which is a feature not offered by any other product," said David Lynch, Founder and CEO, LevelUp Incorporated.
Gamers who would like to know more about Sabertron can find more information and see a demonstration video on the company's product website at http://sabertron.com or directly on the Kickstarter project page at http://www.kickstarter.com/projects/levelup/sabertron-foam-sword-play-with-wireless-electronic.
Later accessories planned for 2014 include health displays that are worn by each player and wirelessly communicate with the player's sword. This will enable a mode of playing with greater than two people, making it possible for mass multiplayer gaming. The addition of active shields, armor, and helmets will complete the Sabertron system and allow a full combat simulation, similar to Live Action Role Play (LARP) gaming.
"We see a lot of excitement in the LARPing community about what this will do for the game. We have many ideas for future products in this space," said Lynch.
LevelUp Incorporated was created in 2013 to bring interactive gaming to the real world. The company will introduce products that employ the latest technological innovations in creative ways for toys, exercise, and entertainment.