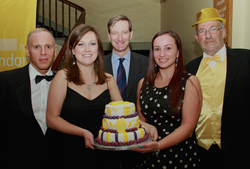 We are extremely grateful to our sponsors, Lexacom, who have supported us for over four years and helped make this event possible
(PRWEB UK) 31 October 2014
Last week's Dazzling Decade Anniversary Party, held to celebrate the London Legal Support Trust's (LLST) 10th birthday, raised £5,000 for the charity as well as giving volunteers and staff in legal advice centres a public pat on the back for their commitment. Sponsored by leading digital dictation software provider, Lexacom, the party was a sell out success, attracting over 200 people from across the legal sector.
The event provided an important opportunity to celebrate the significant efforts made by those providing vital support in law centres, pro bono teams and legal charities. Law firms and other organisations were invited to nominate their 'unsung heroes', many of whom do crucial work behind the scenes which enables access to free legal advice for those most in need. ITV's Judge Rinder and former Attorney General, Dominic Grieve QC MP, presented "Champion of Justice" awards on the night to:

Samantha Jago, Partner, RHW Solicitors LLP
Rachel Lovell, Legal Adviser, Blackfriars Advice Centre
Olamide Ogunrinade, Volunteer adviser, LPC
Sue Bent, Director, Coventry Law Centre
Jane Barrett, Solicitor, Coram Children's Legal Centre
Jonathan Haines, Solicitor, Quality Solicitors Martin Tolhurst
Susan Gregory, Admin & Reception Volunteer, Croydon Law Centre
Nathan Cripps, Solicitor, Clifford Chance
Ros Lucas, Chief Executive, Migrants Resource Centre
Emily Coghill, Volunteer Debt Adviser, South West London Law Centres
Alan Cripps, Business Manager, Ealing Law Centre
Rhiannon Hughes, Client Support Co-Ordinator, Blackfriars Advice Centre
Ruth Ormston, Solicitor, Wragge Lawrence Graham & Co
Eddie Coppinger, Director, University House Legal Advice Centre
Roopa Tanna, Solicitor, Islington Law Centre
Nim Ong, PAS Peer Adviser & Clinic Co-Ordinator (Serving Prisoner), Prisoners' Advice Service
Alasdair Stewart, Operations Manager, South West London Law Centres
Barry Mills, Senior Case Worker, North Kensington Law Centre
Marilyn Hendleman, Community Outreach Administrator, Clifford Chance
Niki Goss, Solicitor, South West London
Noeleen Adams, Consultant, Law Centres Network
James Banks, Head of Development, PSU
Sally Causer, Head of Development, Southwark Citizens Advice Bureau/ Legal Advice Network
His Honour Judge David Mackie QC CBE
Richard Dyton, Partner, Simmons & Simmons
The party also gave the LLST an opportunity to thank those firms who have supported the charity consistently since the first London Legal Sponsored Walk in 2004, as well as showcasing a short film, created pro bono by Freshfields Bruckhaus Deringer, about the work of the LLST.
The £5,000 profit from the event will be put to good use supporting specialist free legal advice agencies across London.
Bob Nightingale, Chief Executive of the LLST, said: "We are delighted our anniversary party was such a success. As well as being an important fundraising event, we wanted to celebrate the achievements and hard work put in by all those involved in enabling fair access to justice. We are extremely grateful to our sponsors, Lexacom, who have supported us for over four years and helped make this event possible."
A long-term supporter of the LLST, Lexacom is increasingly being chosen by law firms looking to adopt efficient, reliable digital dictation technology which is both easy to use and cost effective. Dr Andrew Whiteley, Managing Director, Lexacom, said: "It was wonderful to be able to support the LLST in marking ten years of fantastic fundraising achievements."
About the LLST
The London Legal Support Trust works to support law centres and legal advice agencies in London and the South East by providing them with grant funding alongside other forms of support. This is done by holding large fundraising events, most notably the London Legal Walk, and then delivering the funds raised to the agencies where they are most needed. The LLST offers its knowledge and experience of the sector to help the agencies to become more sustainable and help to partner them with law firms and chambers who want to help them ensure that the law is fair.
About Lexacom
Lexacom digital dictation software is used to create millions of documents every year by professionals in the legal, healthcare and financial professions.
The software enables authors to flag the importance of a dictation, while admin teams can immediately see both the priority and length of the dictation and can plan their workload accordingly. The software offers secure mobile dictation, optional voice recognition, secure outsourced transcription, multi-site information sharing and advanced management and reporting features.
Lexacom provides a flexible service which can be tailored to individual clients. They offer a free, no-obligation 30 day trial to all new customers and provide excellent support through their UK technical team.
Lexacom began working with the London Legal Support Trust in 2011 and has continued to support the trust, through both sponsorship and use of technology.