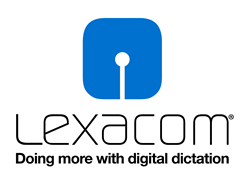 We've designed our system so that it integrates seamlessly with our transcription partners – putting clients in the driving seat when it comes to managing their resources.
(PRWEB UK) 18 February 2015
Leading digital dictation provider, Lexacom, has launched an exciting new range of fully integrated transcription services, in partnership with leading providers, to offer clients a flexible typing resource at the touch of a button. Lexacom's new service is the first of its kind to offer highly customisable, on-demand transcription services, which are as easy to access as in house admin support and can be set up in a few simple clicks.
Working in partnership with carefully selected transcription partners, including Accuro and preScribe, Lexacom's customers can securely access approved transcription services anytime or all of the time - as easily as sending to their in-house secretarial team.
"We've taken a fresh look at outsourced transcription," said Lexacom Managing Director, Dr Andrew Whiteley. "We've designed our system so that it integrates seamlessly with our transcription partners – putting clients in the driving seat when it comes to managing their resources.
"We all know that, no matter how well we plan, there are times when in-house resources are stretched. Whether that's due to extra demand, staff shortages, holidays or sickness, it can be difficult to foresee when extra support might be needed. That's why we wanted to create a service that offers choice and total flexibility, enabling clients to call on an extra resource exactly when they need to."
The first services to launch are Accuro and preScribe. Both provide specialist medical and legal typing services with panels of highly trained transcribers, offering an on-demand service to respond to the changing needs of the client.
Once they have set up the service, Lexacom clients can easily select either their secretarial team or an outsourced transcription provider to transcribe dictations, anytime or all the time. With no set up fees, clients only pay for what they use - so there's no wastage when they don't need the service.
"We only work with carefully selected suppliers who offer the same high level of security and customer service that our clients expect," continued Dr Whiteley. "We are delighted to be working with Accuro and preScribe to be able to offer new and existing clients high quality transcription services that will help to further enhance our clients' efficiency and make their lives easier." More transcription partners are due to be announced in the coming weeks.
The new integrated outsourced transcription service is available to Lexacom clients using its latest software. For more information visit http://www.lexacom.co.uk .
Ends
About Lexacom
Lexacom first pioneered digital dictation software in 1997 and it is now used by more than 2700 organisations to create over 10 million documents a year by professionals in the healthcare, legal and financial professions. Lexacom is the most widely used digital dictation supplier in primary care.
Lexacom 3 offers maximum efficiency, control and flexibility when dictating, transcribing and reviewing documents. Lexacom 3 is the only digital dictation solution approved by all three major clinical systems, and offers the ability to:

Dictate wherever, whenever with the Lexacom Mobile App
Return transcriptions to author electronically for checking/approval (fully compatible with Lexacom Mobile for approval on the move)
Send attachments or add notes with your dictations
Monitor your workload with advanced management and reporting tools
Securely share information across sites, even where no network connection exists
Take advantage of automatic software updates and technical help
Choose optional integrated services to maximise efficiency
Lexacom provides a flexible service that can be tailored to individual clients. They offer a free, no-obligation 30-day trial to all new customers and provide excellent support through their UK technical team.
For more details, visit http://www.lexacom.co.uk
About Accuro
Accuro is one of the UK's leading transcription service providers with a panel of over 250 digital transcribers – the largest in the UK. Their customer base includes national law firms, the NHS and public sector organisations.
Accuro benefits include:

100% UK based – dictations are never sent offshore for transcription
One business day turnaround – guaranteed
Urgent dictations are prioritised at no extra cost (on a fair usage basis)
Data is encrypted using 256 bit SSL encryption throughout the process
Customers are assigned a dedicated team of secretaries to ensure familiarity with dictation and house style
On demand service - no set up costs, subscription fees or contracts to tie clients in
No minimum spend
Transparent, competitive charging system - charges are by the length of dictation, so clients can calculate the cost of transcriptions in advance
Accuro offers new customers 30 minutes of free dictation, providing an ideal opportunity to try out the service.
About preScribe
PreScribe offers highly specialised medical typing services and is fully integrated with Lexacom 3.
Prescribe benefits include:

The UK's leading provider of tailored transcription services for the NHS
Skilled pool of highly trained and experienced medical transcriptionists, editors and quality assurance staff, with over 80% having a formal clinical qualification
Fully IG compliant: ISO27001 (Information Security) Accredited
NHS Framework Supplier
International provider to the UK, Irish and Australian private and public hospital sectors, individual GP and consultant-led clinics
Unparalleled accuracy levels by our specialism-specific teams- ISO9001 (Quality) Accredited.
Personalised customer service
24-hour operation and customer support
Simple set up – start immediately
Flexible and 'no commitment options': only pay for what you use when you need us
preScribe offers new customers using Lexacom 3 benefit from an introductory offer - a no-obligation, free trial up to 30 days, enabling clients to experience the benefits.