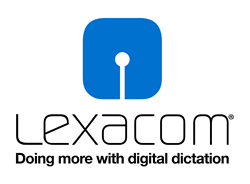 Lexacom has enabled us to catch up with the backlog of work, which has had a phenomenal impact on the morale of the team and has resulted in a much better service for patients
(PRWEB UK) 10 April 2015
The Bartholomew Medical Group in East Yorkshire has appointed Lexacom digital dictation to provide a faster, more accurate and secure way of generating patient referral letters in their practice – boosting processing times as well as staff morale.
With their previous tape-based system, the Bartholomew Medical Group was facing a backlog of referral letters, which was causing frustrations for both patients and the team. The old system was fraught with problems ranging from unclear sound to difficulty in locating urgent dictations.
Business Manager, Carol Hunt, said: "The secretaries would often be asked to type an urgent referral letter, which could be anywhere on a tape. They had no way to find it other than forwarding and rewinding until they reached the right one. Plus, some doctors would hand over tapes each day, while others would wait a while, so there were often big peaks and troughs in workload from some GPs. We were facing a huge backlog of work, which was extremely difficult for everyone."
Following a recommendation from a local practice and a successful free trial period, the Bartholomew Medical Group decided to install Lexacom software alongside Olympus hardware.
Carol continued: "Lexacom has enabled us to catch up with the backlog of work, which has had a phenomenal impact on the morale of the team and has resulted in a much better service for patients. I'm now able to monitor workloads more effectively, and I can see we are working more efficiently as a practice."
Lexacom integrates seamlessly with their clinical system, SystmOne, ensuring the correct patient details are automatically selected at the time of the dictation. Not only that, the relevant clinical specialism is included, making it much clearer and referrals can be processed more easily.
Office Manager, Vanessa Earl is delighted with the change Lexacom has made: "Our new Lexacom system has really lifted the mood. Now, it's really clear to see how many recordings are waiting to be transcribed and we have started setting ourselves targets, which gives us a real sense of achievement when we reach those goals. We certainly wouldn't want to go back to tapes now."
Lexacom Managing Director, Dr Andrew Whiteley, said: "We're very pleased to be working with the Bartholomew Medical Group. With practices under growing pressure to work more efficiently, GPs are increasingly looking to digital systems to help improve working practices and offer greater flexibility. It is very rewarding to see that Lexacom is not only saving them time but reducing the strain on their team. "
Ends
About Lexacom
Lexacom first pioneered digital dictation software in 1997 and is now the most widely used solution in Primary Care. Lexacom 3 offers maximum efficiency, control and flexibility when dictating, transcribing and reviewing documents. Lexacom 3 is the only digital dictation solution approved by all three major clinical systems, and offers the ability to:

Dictate wherever, whenever with the Lexacom Mobile App
Return transcriptions to author electronically for checking/approval (fully compatible with Lexacom Mobile for approval on the move)
Send attachments or add notes with your dictations
Monitor your workload with advanced management and reporting tools
Access fully integrated third party transcription services for some or all dictations
Take advantage of our integrated print and Post service in partnership with Docmail®
Securely share information across sites, even where no network connection exists
Take advantage of automatic software updates and technical help
Lexacom provides a flexible service that can be tailored to individual clients. They offer a free, no-obligation 30-day trial to all new customers and provide excellent support through their UK technical team.
For more details, visit http://www.lexacom.co.uk