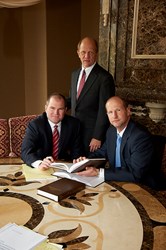 St. Louis, MO (PRWEB) August 17, 2013
The Onder Law Firm announces that two of its attorneys, Mark Niemeyer and Michael Kruse, will act as coordinating counsel for the Missouri Consolidated Lexapro/Celexa Products Liability Litigation. The vast majority of the Celexa and Lexapro birth defects lawsuits in the United States have been consolidated in Missouri Judicial Circuit 19 (Case No. 08AC-CC00566-01) in Cole County, Missouri. These Celexa and Lexapro birth defects lawsuits allege that use of these antidepressants by pregnant women causes birth defects, but also that Forest Laboratories, Inc., the maker of Celexa and Lexapro, knew of the danger and failed to appropriately warn expectant mothers. The birth defects alleged to have been caused by Celexa and Lexapro use include cardiac birth defects such as hypoplastic left heart syndrome, spina bifida, anencephaly, craniosynostosis, omphalocele and club foot, as well as persistent pulmonary hypertension of the newborn (PPHN). As coordinating counsel, Niemeyer and Kruse will be actively leading on behalf of all plaintiffs.
The Celexa and Lexapro birth defects lawsuits have been filed against Forest Laboratories, Inc., which has facilities in St. Louis, Missouri, the nearest major metropolitan area to where the Celexa/Lexapro litigation is taking place. With the recent introduction of the discovery Special Master, the Missouri Consolidated Lexapro/Celexa litigation is set for next May and will be the first Celexa/Lexapro birth defects trial in the nation. St. Louis, Missouri is the center of activity for Lexapro birth defects cases, being a major office of Forest Laboratories, Inc. and the location of the Special Master and The Onder Law Firm. Depositions of the employees of Forest Laboratories, Inc. are underway, in earnest, with expert disclosures due this fall.
Attorneys at The Onder Law Firm handling antidepressant birth defects cases are offering a no-cost, no-obligation consultation and will represent clients in this matter on a contingency basis, with no fees or costs of any kind unless they are able to secure a settlement. The Onder Law Firm welcomes inquiries from law firms in regards to handling or working as co-counsel on claims of alleged birth defects stemming from antidepressant use during pregnancy.
About The Onder Law Firm
Onder, Shelton, O'Leary & Peterson, LLC is a St. Louis based personal injury law firm handling serious injury and death claims across the country. Its mission is the pursuit of justice, no matter how complex the case or strenuous the effort. The Onder Law Firm has represented thousands of Americans in lawsuits against multinational conglomerates from products liability for manufacture of defective or dangerous products to deceptive advertising practices. Other firms throughout the nation often seek its experience and expertise on complex litigation. It is also a recognized leader in products liability cases such as window blind cord strangulation. The Onder Law Firm offers information pertaining to Lexapro birth defects at http://www.lexaprobirthdefectslawsuits.com .