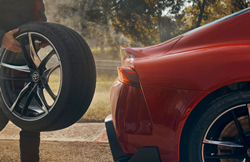 LEXINGTON, Mass. (PRWEB) May 21, 2019
Brakes are an integral system in a vehicle. They suffer damage over time, and certain driving styles may even accelerate wear and tear. Eventually, all vehicles need brake repairs or replacements, and the employees of Lexington Toyota know that this can be a costly repair. That is why Lexington Toyota is currently offering a coupon for discounted vehicle brake services.
Lexington Toyota offers different maintenance coupons throughout the year. These coupons can be found on their website, Lexingtontoyota.com. To use these coupons, customers should schedule a maintenance appointment and print the coupon from their website to bring with them to their appointment. Currently, there is one coupon available for discounted vehicle brake service, and this coupon will last through July 1, 2019. The current coupon can get drivers $50.00 off of a complete, 4-wheel brake service or $25.00 off of a 2-wheel brake service. Brake services offered at Lexington Toyota include the replacement of all front and rear disc track pads with new genuine Toyota pads, the resurfacing or replacement of brake rotors, the inspection of all brake components, or the checking and filling of brake fluids.
Drivers are encouraged to schedule these services before July 1, 2019, to take advantage of the available coupon. In order to schedule a service appointment, Lexington area drivers can fill out the form on the dealership's website or contact the dealership's service team. The service team can be reached at (781) 861-7400. Customers can also schedule a service appointment in person. The dealership is located at 409 Massachusetts Avenue in Lexington, MA.