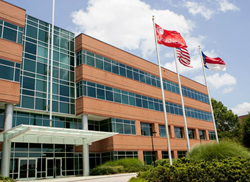 There's an inherent opportunity for both LexisNexis and members of this program to better serve lawyers and legal professionals.
Raleigh, NC (PRWEB) January 29, 2016
LexisNexis® Legal & Professional, a leading provider of content and technology solutions, announced today it has vastly refined and expanded its channel partner program for legal software solutions and hosting. The initiative provides channel partners with greater access to technical and sales training, customer relationship information, and also offers new quote and deal registration capabilities to give channel partners added control throughout the sales cycle.
The newly-launched initiative consolidates and formalizes multiple initiatives into a single comprehensive partner program managed by the software and technology division of LexisNexis Legal & Professional, based in the Raleigh Technology Center.
"With the combination of software and technology businesses – from business software for law firms and corporate legal, to eDiscovery and managed technology services – LexisNexis has built what is arguably one of the largest concentrations of legal tech professionals in the US," said BJ Schaknowski, senior vice president of Sales and Professional Services, with the LexisNexis software and technology division. "There's an inherent opportunity for both LexisNexis and members of this program to better serve lawyers and legal professionals."
LexisNexis currently counts 1,200 companies as channel partners and is seeking to grow participation both in commercial and public sector segments, including federal, state and municipal markets. LexisNexis provides opportunities for a number of business models, serving a variety of channels, including: value-added resellers (VAR), distribution partners, managed services providers (MSP), litigation support providers (LSP), certified consultants, services providers and outsourcing.
The partner program provides value-added benefits, joint marketing opportunities and sales enablement, as well as access to resources to grow and align their business. For end-customers, they are now able to work with third parties to acquire a broad array of technology products offered by LexisNexis as needed.
As part of the program, LexisNexis has also rolled out a public facing channel partner website for participating companies and vendors. The portal will provide customers with access to data and provide a window of transparency into support, sales and opportunities.
"We have always been committed to our valuable partners and working with them to deliver value to clients and drive mutual profitability," adds Sara Hobson, senior director for Channels with LexisNexis. "The launch of our new partner program and dedicated portal speaks volumes to this commitment and the emphasis LexisNexis is placing on software and technology for the legal community."
Current or existing partners interested in participating may obtain more information and apply to become a channel partner here: partnerhub.lexisnexis.com. Or, register to learn more at the Channel Partner Launch webinar at 3 p.m. EST on February 11, 2016.
About LexisNexis Legal & Professional
LexisNexis Legal & Professional is a leading global provider of content and technology solutions that enable professionals in legal, corporate, tax, government, academic and non-profit organizations to make informed decisions and achieve better business outcomes. As a digital pioneer, the company was the first to bring legal and business information online with its Lexis® and Nexis® services. Today, LexisNexis Legal & Professional harnesses leading-edge technology and world-class content to help professionals work in faster, easier and more effective ways. Through close collaboration with its customers, the company ensures organizations can leverage its solutions to reduce risk, improve productivity, increase profitability and grow their business. LexisNexis Legal & Professional, which serves customers in more than 175 countries with 10,000 employees worldwide, is part of RELX Group plc, a world-leading provider of information solutions for professional customers across industries.
LexisNexis helps professionals at law firms and legal departments of all sizes manage the business element of their practice or departments with innovative software and mobile solutions for customer relationship management, competitive intelligence gathering and assessment, time and billing management, matter management, client analysis, legal holds and more.