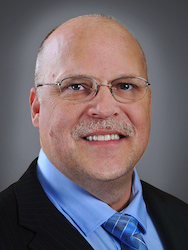 LEXINGTON, Ky. (PRWEB) June 10, 2019
Lexmark, a global imaging solutions leader, today announced that Tom Eade has been named senior vice president and chief technology officer. In this leadership role, Eade is responsible for Lexmark's global research and development (R&D) operations.
Eade succeeds Allen Waugerman, who was recently named Lexmark president and chief executive officer.
Eade joined Lexmark at its inception in 1991 and has held numerous management positions in R&D. Since 2015, he served as vice president of firmware and software, responsible for the design, delivery and support of Lexmark software, custom silicon, communication solutions and system firmware.
In previous roles, Eade served as industry director focused on the insurance and banking sectors for Lexmark; director of R&D; and manager of advanced print engine, scanner and OEM products.
Eade holds a bachelor's degree in electrical engineering from the University of Kentucky, where he serves on an industry advisory board for the College of Engineering. He also volunteers his time with the United Way of the Bluegrass and Habitat for Humanity.
"We are pleased to add Tom to the Lexmark executive team as senior vice president and CTO," said Allen Waugerman, Lexmark president and chief executive officer. "He brings a wealth of industry, company and technical knowledge and will help us continue to build print technologies for customers across the globe."
Supporting Resources
Read Tom Eade's executive profile.
About Lexmark
Lexmark creates innovative imaging solutions and technologies that help customers worldwide print, secure and manage information with ease, efficiency and unmatched value.
For further information:
Emily Rardin, erardin(at)lexmark(dot)com, 859-232-7818