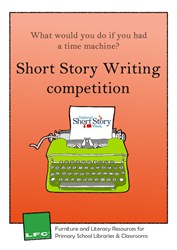 [The competition] gives young writers an opportunity to exhibit and be rewarded for their talents whilst promoting a love of writing.
(PRWEB UK) 3 October 2013
Literacy and school library supplies company, LFC launched the competition to celebrate National Short Story Week (11th to 17th of November), encouraging budding young writers to showcase their storytelling skills and creativity. Schools are required to register at LFC's website, as competition places are limited to 100 schools nationwide.
The first prize will be a visit from award winning children's author Tommy Donbavand, who is known for the 13-book Scream Street series and the newly released Fangs Enigma series.
Tommy is the author of Dr Who: Shroud of Sorrow and Uniform (winner of the Hackney Short Novel Award) written for reluctant and struggling readers. His plays including Hey Diddle Diddle Rumplestiltskin and Humpty Dumpty And The Incredibly Daring Rescue Of The Alien Princess From Deep Space, have been performed to thousands of children nationally.
Tommy has worked extensively with the National Literacy Trust as part of their Premier League Reading Scheme and as their first Reading is Fundamental Ambassador.
Two runners-up will receive LFC vouchers worth £100 and £50 respectively to spend on literacy and reading promotion products.
"We are excited to be running our short story competition again this year, as it gives young writers an opportunity to exhibit and be rewarded for their talents whilst promoting a love of writing. The number and quality of last year's entries really shows how strongly schools feel about encouraging pupils to use their creativity," says Selina Dawkins, the brand manager for LFC.
"As an avid reader I can't wait to read what our entrants come up with this year!" continued Miss Dawkins.
Last year's winning story 'Adam and The Secret' by Nathan Edwards from Hawley Primary in Surrey, was selected from 300 brilliant stories. The winning prize was a visit from author Vivian French, who made the day a real treat to the pupils and teachers alike.
"The children as well as the teachers were all so inspired by Vivian," said Hawley Primary teacher, Mrs Dobson, who signed up her school to take part in the competition.
"Vivian spent the day with pupils from years 3 and 4 reading extracts from her books. She also read Adam and the Secret to the entire school assembly."
Registration for the competition closes on Friday, 18th October and registered schools have until 22nd November to submit up to 10 of their best stories.
Winners will be announced before Christmas, with the first prize author's visit taking place during the first half of the spring term, 2014.
This year's story elements: time machine, friendship and a rescue have been chosen to tie-in with 50th anniversary of Doctor Who and National Anti-Bullying Week which takes place in November.
Please visit the LFC blog to find out more about the competition and to sign up your school.
LFC specialist products aim to support and help schools promote reading for pleasure and raise literacy levels through reading promotion and literacy focused products to help improve skills, whilst making learning interesting and fun. Our goal is to help to create inviting and stimulating environments for reading and learning, by making libraries and classrooms in primary schools appealing and interesting, enabling children to discover their love of reading.