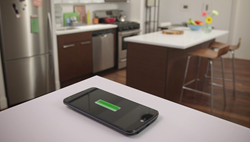 (PRWEB) May 21, 2014
LG Hausys, a surfacing material manufacturer, proudly announces it is exhibiting at NeoCon in booth #4102 from June 9-11. At the conference LG Hausys will unveil TechTop, a surface with wireless charging solution offering true convenience and mobility. LG Hausys is the first manufacturer to have this technology available for potential commercial customers.
The event will offer a preview of TechTop and demonstrate the value of this new technology within the commercial community. LG Hausys will embed TechTop into HI-MACS surface applications allowing users to charge their mobile device by simply placing it on top of the embedded surface. No more searching for the right cable or an elusive wall outlet.
"TechTop is a surface with wireless charging capabilities. The technology is seamlessly embedded into the HI-MACS surface with a single hidden connection to the outlet," says Bongsoo Kim, CEO. "It is an easy and safe solution to enjoy the benefits of wireless charging technology, so that people can stay connected at the right times."
TechTop utilizes Qi inductive charging technology – the universal standard for wireless charging of battery operated mobile devices. Electricity is transmitted wirelessly by way of electromagnetic fields instead of cables. HI-MACS surface holds a transmitter coil that generates a magnetic field through an alternating current. The field resonates with the receiver (in this case, a mobile device) and induces voltage up to 5 watts as of current.
TechTop surface-embedded wireless charging maintains a safe transfer of power thanks to its built-in high voltage and overheating detection. Without an exposed conductor there is minimal risk of fire hazard or electric shock.
LG Hausys is initially focusing on the hospitality and retail sectors. Because the technology is so versatile, the company hopes to expand into other sectors such as entertainment venues and educational institutions as the wireless charging technology develops. The market for compatible devices is endlessly growing. More and more cellular carriers including Verizon are adopting wireless charging technology while it is compatible with Sprint and T-Mobile.
About LG Hausys
LG Hausys is dedicated to creating elegant and beautiful spaces with stylish, human-friendly designs. The entire range of HI-MACS nearly unlimited color options and particulate patterns can contribute to sustainable LEED building projects with certification from GREENGUARD Indoor Air Quality and GREENGUARD for Children & Schools certification as low-emitting interior materials. Made in the USA, the HI-MACS collection can contribute to LEED building projects in several ways under the Materials and Resources category.