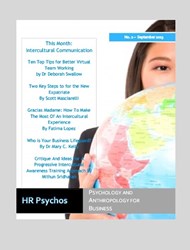 Our experts examine every possible way of intercultural communication in today's business world.
London, UK (PRWEB UK) 6 September 2013
The latest copy of HR Psychos from London Global Consultants is focusing on intercultural communication, a topic nearly every business has to deal with. No matter if companies sending their employees abroad or if people with another cultural background working in a company, when different cultures meet, misunderstandings and conflicts arise daily. "Over 15 experts in intercultural communication wrote articles and shared their experiences, opinions and tips how to communicate better in a multicultural environment and to come over business setbacks caused by differences of values and standards," states Kristin Muller-Wenzel, founder of London Global Consultants and HR Psychos.
The articles variant from person experiences, over tips how to prepare best and what to do first as expatriate to a critical discussion about the pros and cons of intercultural trainings. Furthermore the problems of virtual communication across cultural boarder and the lead of global virtual team is a big topic in the actual issues. "Our experts examine every possible way of intercultural communication in today's business world, from the view of migrants to virtual teams and the problems of leading in different cultural environments," explains Muller-Wenzel and adds: "This time HR Psychos could win so many experts for the magazine, that it doubled its sizes. It is fantastic to see how easy it can be to improve the communication between different cultures and establish a better working environment with better motivated employees and a higher productivity."
With a 2-month free trial London Global Consultants offers readers the possibility to take a deeper look into the magazine, before they have to buy a monthly or yearly subscription. And for those who don't like subscriptions at all the latest and older versions of the HR Psychos are available as single issues on the company webpage and all are optimised for mobile phones and tablets.
About London Global Consultants:
London Global Consultants is a HR consultancy based on the innovative and award-winning concept of Kristin Muller-Wenzel. The company is specialised in behavioural and cultural profiling of employees and teams. London Global Consultants offers consulting and coaching for HR professionals, companies and investors to find, manage and retain the best employees, and to increase the confidence and control over HR issues. With HR Psychos London Global Consultants is publishing the first magazine that brings psychology and anthropology into the world of Business. For more information, visit our webpage http://www.LondonGlobalConsultants.com/ and contact Kristin Muller-Wenzel via Twitter @K_Muller_Wenzel or Mail(at)LondonGlobalConsultants(dot)com.