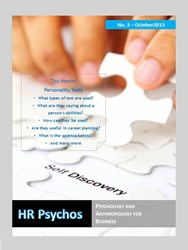 It is hard not to lose the overview in the overcrowded market of personality tests and career assessments.
London, UK (PRWEB UK) 22 October 2013
Personality tests are used since over 5000 years to make recruitment and career assessment easier, but the big hype started in the 1980s and since then a lot of different test had been developed. This month's HR Psychos is dedicated to the history and the future of psychometric testing with interviews from psychologists and coaching experts, a great overview about the development of personality assessment and the actual trends in the field. "We are happy, that we could get so many experts who are sharing their knowledge and giving useful tips for job seekers and businesses alike," states Kristin Muller-Wenzel, founder of London Global Consultants.
Psychometric testing is a hot topic for recruitment and statistics are showing that over 60% of all companies are using this way to assess the potential of job candidates. The number of private users, who want to find out more about themselves and how to use their full potential, will be at the same high or even higher. But it is hard not to lose the overview in the overcrowded market of personality tests and career assessments. With the actual HR Psychos London Global Consultants helps job seeker, employees and employers to find the right way to use their full potential and create a happy and satisfying work environment.
But that is not the only news. To improve the readers experience and give them the possibility to read the latest HR Psychos on different devices, London Global Consultants decided to publish the magazine in various eBook reader formats, too. "To reach many of our readers, we decided to go for eBook readers and made it possible to download the actual HR Psychos in different formats," explains Muller-Wenzel and adds: "Of course, we still have our online magazine, where you can read the latest articles and older ones. So if you missed one of the previous issues, you can find the articles and interviews there and you do not need to purchase the complete magazine. We are offering pay per post, what gives the readers a great flexibility."
Company Information:
London Global Consultants is a career and management consultancy based on the award-winning concept of Kristin Muller-Wenzel. Dedicated to human side of business, the company aims to improve job satisfaction, motivation and engagement for individuals and in organisation. HR Psychos is a London Global Consultants publication. For more information, visit http://www.londonglobalconsultants.com/ or send us and mail: Mail(at)LondonGlobalConsultants(dot)com.