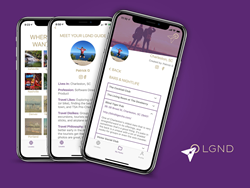 That is why travelers spend so many hours researching. There is a severe lack of trust in the information provided on travel websites.
CHICAGO (PRWEB) December 09, 2019
A growing travel app company is out to prove that the process of finding the best places to go or things to do when traveling is in need of an overhaul. According to a recent Nielsen Research study, the average traveler spends 53 days visiting 28 different websites over 76 online sessions looking for travel tips. The LGND Travel App is betting it can provide recommendations that travelers can actually trust, in a matter of seconds.
LGND (pronounced 'legend') matches users with "packs" of recommendations created by locals on what to do, what to know, and where to go when visiting a city – all tailored to the user.
The app works by asking travelers a short set of questions and then calculating which local "LGND Guide" is best suited for that traveler. Users can view that local's profile along with their favorite restaurants, bars & nightlife, activities, and insider tips, complete with their personal notes on each. The service is free to use, and the app factors in the user's age range, budget, trip type, and more.
"Think TripAdvisor meets Match.com," says Founder & CEO, Patrick Gallagher. "Until now, getting your hands on honest, accurate, and relevant travel tips has been nearly impossible. Companies in the travel industry have been attempting to connect their audience with local, authentic experiences. But the information they provide is typically sponsored, stale, or written without bothering to learn about each traveler. That is why travelers spend so many hours researching. There is a severe lack of trust in the information provided on travel websites."
The LGND app, available in both the Apple App Store and the Google Play Store, launched in the Spring of 2019 in Charleston, SC. It has since added over 100 travel guides across popular travel destinations like Chicago, Nashville, Asheville, and Savannah and is eyeing rapid expansion in 2020 to cover top destinations in the United States and abroad. The company's mission is to create guides that fit all walks of life and that better showcase local businesses that typically don't benefit as much from tourism dollars.
"More cities are on the way," insists Gallagher. "We are excited about building a community of travelers who are experiencing new places like a local, or even just getting a refreshing view of their own city. We will continue to pursue top travel destinations, explore exciting partnership opportunities with travel brands, and roll out new, helpful features. Most importantly, we will be constantly refreshing our local guides so that we continue to earn that trust amongst travelers wherever they go."
For more details about the app, visit http://www.LGNDapp.com or connect on social media (@LGNDapp) on Facebook, Instagram, or Twitter. The company plans to announce its list of new cities launching in early 2020 on its social media channels.