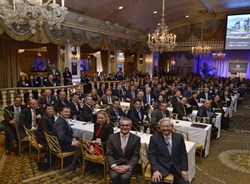 This year's event attracted a record number of hoteliers, who heard from a range of leading-edge thinkers and innovators...
New York, NY (PRWEB) December 03, 2013
The Leading Hotels of the World recently hosted its Annual Convention, the most important global gathering on the company's calendar, at The Pierre New York – A Taj Hotel in New York City, from November 24 to 27. The theme of this year's meeting was The Leading Renaissance. Attendees comprised an impressive group of proprietors, managing directors, general managers, and sales and marketing executives from the world's finest hotels and resorts. Event participants were welcomed by Mr. Andrea Kracht, chairman of Leading Hotels and owner of the Baur au Lac in Zurich, Switzerland. The attendees were collectively hosted at the five Leading Hotels in the city: The Pierre, A Taj Hotel, New York; Hotel Plaza Athénée; The Lowell; The Greenwich; and The Langham Place Fifth Avenue.
Commenting on the significance of the convention, Leading Hotels President and CEO Ted Teng stated, "This year's event attracted a record number of hoteliers, who heard from a range of leading-edge thinkers and innovators in areas such as e-commerce, multi-sided market analysis, transient competitive strategy development, sports, customer loyalty, publishing, fashion, brand identity, and more. It also afforded us all the opportunity to get together to discuss how we can collaborate to create a solid future by exploring and examining a variety of relevant business topics – both from within the hospitality field, and from other disciplines as well."
Concluding, Mr. Teng noted, "Of course, holding the convention in New York City gave us all a chance to enjoy ourselves, taking in the excitement and cultural offerings of one of the most dynamic cities in the world."
Among the notable speakers this year were Rita Gunther McGrath, Author and Associate Professor, and Jerry Kim, Assistant Professor of Management, Columbia Business School; Robert Carey, Principal, and David Kang, Associate Principal, McKinsey & Company; designer Vera Wang; Michael Johnson, Dean and E.M. Statler Professor, Cornell University; Mark Tatum, Executive Vice President, Global Marketing Partnerships, National Basketball Association; Seth Traum, SVP, Director of Global Brand Strategy, BAV Consulting; and Nancy Novogrod, Editor in Chief, Travel + Leisure.
Additionally, awards for outstanding achievement and commitment to delivering an exceptional customer experience were presented to hotel members.
Hotels that ranked number one in each of their categories were honored on the closing night of the convention at a formal farewell dinner at the American Museum of Natural History. During this glamorous event, additional awards were presented to the hotels that ranked the highest among the Commitment to Quality and Leaders Club Award winners. Honored hoteliers received a handsome Blancpain watch along with an engraved Tiffany trophy.
COMMITMENT TO QUALITY AWARDS
This award is presented to the hotels in each of five regions that ranked highest on their most recent anonymous Leading Quality Assurance inspection. The winners by region were:
Europe
*Grand Prize Winner: Hotel Cipriani & Palazzo Vendramin, Venice, Italy
Ҫirağan Palace Kempinski Istanbul, Istanbul, Turkey
Hotel Splendido & Splendido Mare, Portofino, Italy
Villa San Michele, Florence, Fiesole, Italy
Middle East & Africa
ZuluCamp at Shambala Game Reserve, Limpopo Province, South Africa
Asia & Pacific
Taj Exotica Resort & Spa, South Male Atoll, Maldives
North America
Halekulani, Honolulu, Hawaii, USA
South America, Mexico & The Caribbean
Miraflores Park Hotel, Lima, Peru
LEADERS CLUB AWARDS
The 15th Annual Leaders Club Awards were determined based upon responses to post-stay questionnaires and letters the company received from Leaders Club Members, who have consistently complimented the hotels for their exceptional welcome and attention extended to all guests, and to Club Members in particular.
This year's honors went to:

Grand Prize Winner: Hotel Palace Berlin, Berlin, Germany
Grand Hotel Vesuvio, Naples, Italy
The Sukhothai Bangkok, Bangkok, Thailand
LEADING LEGEND AWARD
The final evening culminated with the announcement of the winner of the fourth annual Leading Legend Award who was selected based on nominations submitted by members of The Leading Hotels of the World, to recognize to acknowledge the men and women who have made meaningful contributions to the preservation and advancement of independent luxury hotels. This year's winner was Joseph A. Giacoponello, former director of operations, HRI, and former president & CEO, The Leading Hotels of the World, Ltd.
About The Leading Hotels of the World, Ltd. (LHW)
When extraordinary and one-of-a-kind intersect, you have likely found a Leading Hotel. As the largest luxury hotel collection, with more than 430 of the world's greatest properties in over 80 countries, we seek out the exceptional. From grand palaces to intimate city hideaways, from ancient castles to sumptuous safari tent villages, from tropical aeries to mystical paradises, all are utterly unique and boldly independent. Each celebrates the culture of its destination, rather than trying to mask it with corporate-mandated sameness. Established in 1928 by several influential and forward-thinking European hoteliers, it started with 36 initial members. With our eight-decade-long commitment to providing unforgettable, authentic travel experiences, LHW selects only hotels that meet our high standards for quality and distinctiveness. To us, hospitality is not an industry; it's an art…and our passion.