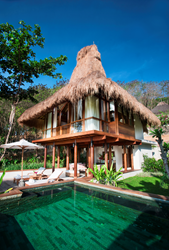 "Nihiwatu is conscious of the impact they have on the environment and are eager to exert a positive influence to advance social good," commented Ted Teng, President & CEO, The Leading Hotels of the World.
(PRWEB) March 16, 2015
Nihiwatu has announced that it has joined The Leading Hotels of the World, Ltd., an uncommon collection of authentic and distinct luxury hotels. The philanthropic alliance will provide the award-winning resort access to The Leading Hotels of the World global network to further The Sumba Foundation efforts.
Located on the island of Sumba in Eastern Indonesia, Nihiwatu was developed with the intent to protect and preserve the unique culture of the island and to enable local residents to support themselves and their families. Through The Sumba Foundation, all profits from the resort are fed into various community-based projects, including Access to Clean water, four malaria clinics and Malnutrition and School Lunch program. The resort also employs ninety percent of its staff from the nearby villages.
"Nihiwatu is conscious of the impact they have on the environment and are eager to exert a positive influence to advance social good," commented Ted Teng, President & CEO, The Leading Hotels of the World. "We are pleased to support this exceptional resort in carrying out its philanthropic efforts by enabling it to leverage the reach and strength of our global infrastructure."
"Ted (Teng) and I have known each other for many years, and when I explained to him our mission with Nihiwatu and The Sumba Foundation he immediately got onboard and agreed support our philanthropic endeavors," said James McBride, Managing Partner, Nihiwatu. "We're delighted to have access to LHW's global network, which will in turn help continue to develop our local communities through education and healthcare initiatives."
The resort's 32 elegantly thatched villas are set amid lush gardens, surrounded by more than 500 hectares of land to ensure privacy and seclusion. All are the epitome of understated indulgence, featuring spacious outdoor living areas, Indonesian marble-floored bathrooms, private pools, and stunning Indian Ocean views. The open-plan design reflects the simplicity and beauty of Sumbanese architecture. Yet the pristine natural setting does not preclude the inclusion of luxury resort comforts such as round-the-clock butler service, unlimited Wi-Fi access and quality cuisine
"Nihiwatu is a natural complement to our portfolio of independent hotels," commented Mr. Teng. "Our travelers are curious about the world in which they live; they seek out adventure, with the intent on discovering the unusual and untrammeled. At Nihiwatu, they will find a true embodiment of the island and its people, a distinctly authentic and immersive experience."
A skilled team of Watermen at the iconic Boathouse offers a wide range of watersports from surfing on their world-class break to free-diving, spear-fishing and scuba. Families will find diversion in Menara, the expansive outdoor Bale, with books, games, table tennis, a pool table and an area for children's movie night under the stars. In addition to world-class surfing, guests can enjoy outstanding sport fishing, hiking through forests and waterfalls, and visiting ancient villages, during a uniquely Sumbanese holiday.
This spring the resort will open a range of new luxury villas as well as a unique Nihi Oka Spa Safari to nearby Nihi-Oka Valley. The experience begins with a trek and is followed by enjoying your own private Bale for the day, complete with unlimited spa treatments, yoga sessions and healthy cuisine.
All-inclusive rates start from USD 900 per room per night, and cover full-board (excluding alcohol) Wi-Fi access, and select excursions and activities.
About The Leading Hotels of the World, Ltd. (LHW)
Comprised of more than 400 hotels in over 80 countries, LHW is one of the largest luxury hotel collections in the world. Rooted in the locations in which they are found, our members embody the very essence of their destination. Through varied styles of architecture and design and distinct cultural experiences enhanced by passionate people, our collection is for the curious traveler looking for their next discovery. Established in 1928 by several influential and forward-thinking European hoteliers, LHW has an eight-decade-long commitment to providing remarkable, authentic travel experiences. We select only hotels that meet our high standards for quality and distinctiveness, resulting in a curated portfolio of hotels united not by what makes them the same, but the details that make them different.
About Nihiwatu
The experience of Nihiwatu is one of unregulated freedom, understated luxury and unforgettable memories.
The resort, located on the island of Sumba in Eastern Indonesia, 400km west of Bali, is an outpost to world-class surfing, the best sport fishing in Indonesia, hiking through breathtaking waterfalls, ancient villages and butterfly trails; to Stand-up Paddling down the Wanukaka River. Nihiwatu was born of a vision to protect and preserve the unique culture of Sumba and – empower the local communities to support themselves and their families. The resort is proud to employ over 90% local Sumbanese, a team that hold a genuine spirit of hospitality. Stories of the heart, character and soul of Nihiwatu reached long-time friends, American brand- building entrepreneur Chris Burch and prolific South African-born hotelier, James McBride in 2011, who together acquired the resort in 2012. Guests are encouraged to visit the local villages and the many Sumba Foundation (http://www.sumbafoundation.org) clinics, schools and communal farms that have resulted through the support from the Foundation, founded by the resort in 2001.