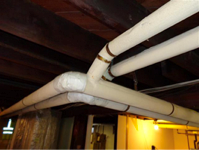 Long Island Home Inspectors, Certified Home Inspections updated their website with new environmental information.
Long Island, New York (PRWEB) October 29, 2013
Certified Home Inspections, is providing existing and new clients with expert environmental information on their website. Certified Home Inspections proudly serves both Nassau County and Suffolk County residents and commercial entities. Their focus is on providing their residential and commercial customers with superior quality when it comes to Home Inspections.
After many years in business, Certified clients continue to use this family owned home inspection company as their preferred company because of their ability to pay special attention to detail. They also take pride in the fact that they use only premium tools for all inspections in order to provide a thorough inspection.Certified Home Inspections take extra pride in providing optimum inspections for their valued clients.
Recently, Certified Home Inspections has launch a new page dedicated to environmental testing. The page talks about Mold, Lead, Asbestos and Radon. Here are some excepts from each environmental disaster.
Mold:
Mold problems can only develop in a home where a moisture problem exists or has existed in the past. Moisture comes from condensation, humidity or water intrusion such as leaks, spills or flooding. Mold digests the organic matter it is growing on and only requires 24 to 48 hours of dampness to grow. Once formed the spores of mold can be released into the air and spread to create new colonies. Not all species of mold are toxic but as many as 15 species are known to be toxic to humans and animals. Molds which are not toxic when ingested can still give allergy symptoms which continue to worsen with exposure.
Lead:
Most homes built prior to 1978 have paint which contains high levels of lead. Lead from paint chips and dust can pose serious health concerns when not handled properly.
Asbestos:
Asbestos has been used in building materials and other products for years. Exposure (long term) has become a serious health concern and is known to lead to cancer. Opinions vary on what to do when asbestos containing materials (ACM) are found however one thing is for sure if ingested you are at risk.
Radon:
Radon is a cancer causing radioactive gas that you cannot see, smell or taste. Radon comes from the natural break down of uranium in soil, rock and water and enters the air we breathe. Radon is known to enter the home through tiny cracks or pores in the foundation of basement floor and becomes trapped in the home where its levels can build.
Each of these can cause major damage and must be taken care of immediately. For more information, visit http://www.certifiedhomeinspectionsny.com website today.
Giving this information is one of the several things that set Certified apart from many Long Island home inspections companies.