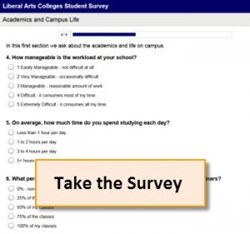 This one of kind survey focuses on gathering information exclusively from students who attend small, liberal arts colleges.
San Diego, CA (PRWEB) October 15, 2013
Choosing the right college is the biggest decision a high-school student will make and, while there's an overwhelming amount of information available about colleges, it's difficult to learn what it's like to actually attend a school prior to enrollment. LiberalArtsColleges.com hopes to change that with its new survey, now open to current liberal arts students.
"Visiting a campus is always a good idea, however, it is merely a snapshot of a college," says David Kochanek, publisher of LiberalArtsColleges.com. "The picture you get of a school from a tour is often a well-orchestrated effort by the Admissions office to put the school's best foot forward."
Popular school rankings are not much help either. Most families don't realize that the college rankings, such as US News and World Report Best Colleges ranking, have serious flaws and are highly criticized both inside and outside academia. These rankings don't tell you much about the quality of education or which schools are a good fit for a student.
"That's why we're excited to launch this survey," says Kochanek. "Counselors often talk about the importance of 'fit' with a college but when you dig deeper, very few people can define what that really means."
Liberal arts college students can click here to participate in the survey.
This one-of-a-kind survey focuses on gathering information exclusively from students who attend small, liberal arts colleges. The survey, which can be completed online in about five minutes, asks currently enrolled students to describe their college experience.
The results of this survey will help prospective students in their school selection process. Kochanek continues, "From academic environment to social culture, and activities on and off campus, the liberal arts survey will help high school seniors decide which campuses would truly be a good place to call home for the next four years."
To share the inside scoop on their college, students can take the survey here.
In appreciation for completing the brief survey, participating students will be included in a drawing to win a $100 gift card from their choice of the iTunes Store, Best Buy or Amazon.
About LiberalArtsColleges.com
LiberalArtsColleges.com provides more than statistics and private college listings. Its goal is to educate students and parents on the true value of a liberal arts college education. The site offers articles, original research, and links to valuable resources for families evaluating college options. Students can learn more by visiting http://www.liberalartscolleges.com.