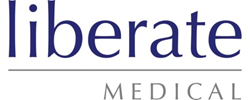 CRESTWOOD, Ky. (PRWEB) January 24, 2019
Liberate Medical, a clinical stage medical device company, focused on the development of novel non-invasive neuromuscular electrical stimulation devices to address pulmonary conditions, announced today that the U.S. Food and Drug Administration (FDA) has granted Breakthrough Device Designation for the company's VentFree muscle stimulator.
The Breakthrough Device program is intended to expedite the process of bringing to market devices, for which no approved or cleared alternative exists, or that offer significant advantages over existing alternatives, and that treat life-threatening, or irreversibly debilitating, diseases or conditions. The benefits of the program include priority review for regulatory submissions and the opportunity for regular and interactive engagement with the FDA to facilitate the efficient clinical and technical development of the device. Since the program started in late 2016, only 110 devices have received the designation. Liberate Medical believes that it is the first KY company to have received the Breakthrough Device Designation.
"Breakthrough Device Designation is important recognition of the potential for the VentFree muscle stimulator to address a serious unmet medical need and will help us bring the device to patients as efficiently as possible," said Angus McLachlan, PhD, CEO and co-Founder of Liberate Medical, "Patients requiring prolonged periods of ventilator support suffer from significant rates of mortality and clinical complications, both while in the hospital and after discharge, and cost the U.S. health care system about $20B per year. Our pilot trial, which has been selected for oral presentation at the ATS International Conference in May, provided an initial indication that the VentFree muscle stimulator may be able reduce the duration of ventilator support in these patients. In doing so, we believe that it has the potential to save lives, reduce morbidity and significantly reduce hospital costs."
ABOUT PROLONGED MECHANICAL VENTILATION
Approximately 40% of mechanically ventilated patients require more than four days of ventilator support, and the number of these patients is increasing at 5.5% per year. Prolonged periods of mechanical ventilation can cause life-threatening complications including barotrauma, ventilator associated pneumonia, muscle atrophy and psychological conditions. With each day of ventilator support, the probability of hospital survival decreases, and hospital mortality almost doubles in those patients who take more than 7 days to wean from ventilator support. Furthermore, patients surviving prolonged mechanical ventilation suffer from significant rates of one-year mortality and substantially reduced functional status. In the U.S. the cost of caring for these patients is estimated to be almost $20 billion per year.
ABOUT LIBERATE MEDICAL AND THE VENTFREE MUSCLE STIMULATOR
Liberate Medical is a clinical-stage medical device company that develops neuromuscular electrical stimulation devices to improve the quality and reduce the cost of care for patients with pulmonary disorders.
Invasive mechanical ventilation commonly results in respiratory muscle weakness, which is a major underlying factor for patients requiring prolonged periods of ventilator support. Current methods of respiratory muscle training cannot be used when patients are sedated or delirious, as is common during mechanically ventilation in the ICU. The VentFree muscle stimulator uses proprietary non-invasive electrical muscle stimulation technology to activate the expiratory muscles in synchrony with exhalation. This non-invasive approach, which does not rely on patient interaction and can be used throughout the process of mechanical ventilation, may provide a novel solution to prevent respiratory muscle atrophy. In turn, this may allow patients to be weaned from mechanical ventilation sooner than would otherwise be possible.
At this time, the VentFree muscle stimulator is an investigational device only and is not for sale in any country.