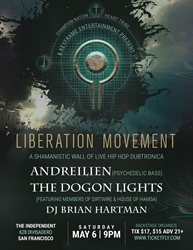 Liberation Movement: Shamanistic Wall of Hip-Hop Dubtronica
San Francisco, CA (PRWEB) April 24, 2017
Built on a "Shamanistic Wall of Hip-Hop Dubtronica" created by Founder and producer Resurrector of Heavyweight Dub Champion, Liberation Movement presents a multifaceted live performance featuring a variety of leaders from multiple projects uniting to offer a new dimension in revolutionary music.
Fusing the ancient shamanic medicine songs of the Shipibo Tribe with modern trip-hop, reggae and dub music through an earth-rattling 40 channel live PA mix, using live instrumentation and multi-cultural vocals, Liberation Movement creates a powerful sonic bridge spanning contemporary and ancient worlds. Uniting genres and cultures, this movement aims to liberate and retune human consciousness through a transformative musical experience. Liberation Movement has performed in festivals throughout the Americas.
The San Francisco show will feature a guest set by DJ Brian Hartman, various local artists like Lux Moderna, Moldover, and Olivia Ruff, as well as performers from around the world, such as Canada's Sasha Rose and Guatemala's Daniel Garcia. The event is sponsored by Keyframe-Entertainment, who is dedicated to supporting unique electronic music artists.
Andreilien stands out among bass music producers as one who keeps the vibe going strong while venturing to explore new realms of sonic experience. Always playing live sets of his own original tracks, his music has been described as a psychedelic journey through fractal soundscapes and alternate realms while riding the waves of fat glitch beats and earth rumbling sub bass. His 2015 album "Ergot Curry" has been called one of glitch music's finest offerings. Learn more at http://andreilien.com/ .
The Dogon Lights combine elements of hip-hop, electronica, rap, shamanic, reggae, rock and African music. Described as "West Africa meets West Oakland," and "Afro-Galactic-Hip-Hop," this ethnically diverse band creates a funky and energetic dance party. They play traditional skin and wood instruments from Africa over hip-hop beats and raps with African lyrics, with a sprinkling of shamanic, electronic and psychedelic tones.
Members of The Dogon Lights have performed with Bassnectar, Beats Antique, Dirtwire, Hamsa Lila, The Mickey Hart Band, Rising Appalachia, and Liberation Movement. Learn more at: http://www.dogonlights.com.
For questions and/or interview requests, please contact: Greg Keidan, Mr. Hat Music at 510-452-7315.
For event info and tickets, visit the Facebook event page: https://www.facebook.com/events/2041924396034900/.
About Liberation Movement:
Liberation Movement was founded in the Peruvian Amazon in 2010 in collaboration with participants from the Shipibo Tribe. Since that time it has grown to include more than 75 artistic participants from 6 continents and it represents more than 1000 years of combined collective mastery in a variety of revolutionary fields. Liberation Movement was seeded in the Amazon to be: a new form of Culture as vibratory medicine, jointly created by archetypal Gatekeepers from varied musical and cultural backgrounds, united in a new musical genre "Liberation Music", and a meeting point for the manifestation of a new reality.
About Keyframe-Entertainment:
Keyframe-Entertainment is a specialized branding and strategy firm, which produces, supports, and distributes cutting-edge projects. Keyframe is the Executive Producer of "ReInhabiting the Village," "The Bloom Series" Episode 3, and "Electronic Awakening," and the Associate Producer of The Polish Ambassador's Permaculture Action Tour film, and the upcoming dance music film "The American Jungle."