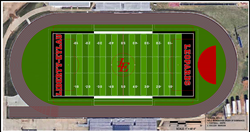 "This project will give the entire Liberty-Eylau community yet another point of pride," said Matt Fry, director of communications for Liberty-Eylau ISD.
Texakarna, TX (PRWEB) June 29, 2016
Student athletes at Liberty- Eylau ISD will be greeted by upgraded sporting facilities this fall, to include a new state-of-the-art synthetic turf field and running track.
"This project will give the entire Liberty-Eylau community yet another point of pride," said Matt Fry, director of communications for Liberty-Eylau ISD. "Every Friday night our stadium is full of members of the community. Liberty-Eylau has a rich history of athletic excellence. Now we will have a field of equal excellence."
Symmetry, a leading sports field contractor based in Mount Pleasant, Texas, was awarded the contract to upgrade the stadium. The company broke ground Monday, June 27, to begin excavation of the existing natural grass surface.
The new synthetic sports field will be used for football and soccer, and will showcase a premium synthetic turf blend called Xtreme Turf, from manufacturing partner Act Global. The artificial turf is designed and tested to meet top natural grass benchmarks for safety and performance, including optimal shock absorption, traction and low abrasion. The striking field design features alternating green turf stripes, a prominent red centerfield logo, and Liberty-Eylau branded end zones.
Highly durable artificial turf offers more playing hours than natural grass, so Liberty-Eylau will encounter fewer cancellations due to weather or poor field conditions. The district will also save on field maintenance labor, costs and water usage.
"Recent years have seen many games cancelled or affected by excess rain. The greatest benefit we see for this project is having a field that is playable in all conditions," said Fry.
In total, the Harris Field project will involve excavation, soil stabilization, base and drainage, turf installation and track resurfacing. The project is slated for completion September 2016.
###
ABOUT ACT GLOBAL
Act Global is a world leader in synthetic turf technology, with manufacturing facilities on three continents and sales in more than 70 countries. Act Global is a FIFA Preferred Producer for Football Turf, Synthetic Turf Council Certified Manufacturer, World Rugby Preferred Turf Producer, FIH Preferred Supplier, and holds ISO 9001 Certification. Its products have undergone hundreds of independent laboratory tests for quality, durability, safety, environmental soundness and performance.
ABOUT SYMMETRY
Symmetry is a leading North American sports contractor, offering expertise in design, construction, artificial turf and track installation, facilities equipment and maintenance services. The company is a turn‐key sports field and track construction contractor for schools, professional stadiums and parks and recreation facilities throughout North America. With a mission to guarantee total customer satisfaction, Symmetry ensures every field receives the same high level of quality workmanship and meticulous attention to detail.