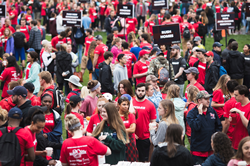 LYNCHBURG, Va. (PRWEB) April 16, 2019
Liberty University students, faculty and staff donate thousands of volunteer hours to the community.
Nearly 2,400 Liberty students, faculty, and staff spent their Friday and Saturday helping dozens of churches, day care programs, and other non-profit organizations. The annual Serve Lynchburg event sees volunteers tackle numerous clean-up and beautification efforts.
On Friday, April 12th, more than 40 LU faculty members took one of their classes – a total of nearly 600 students - out for the day to volunteer. On Saturday, 1,800 volunteers headed out for a full day of service. All told, Liberty contributed roughly 9,300 hours of volunteer service, a value of more than $220,000.
Feel free to use the photos below.
CONTACT: Len Stevens
Executive Director of External Communications
Office - (434) 582-7751
Cell – 434-209-2653
ljstevens(at)liberty(dot)edu