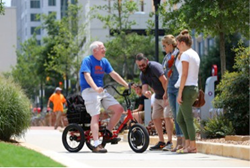 "We are introducing the Liberty Trike on Indiegogo to prove that the market for electric trikes is enormous."
Croydon, PA (PRWEB) September 15, 2015
The Liberty Trike is a powerful, compact, ultraportable and reliable one-of-a-kind electric trike designed for everyone on the go. It will be crowdfunding on Indiegogo for 30 days starting on Tuesday, September 22 and has a $50,000 funding goal to help with manufacturing and shipment.
Unlike other e-bikes on the market, the Liberty Trike's third wheel makes it one of the safest electric bikes on the market. Anyone can ride it, including active adults, anywhere they need to go. The Liberty Trike has a powerful 750w motor that can pull 300lbs effortlessly up hills with a top electric-assisted speed of 7.5MPH. The trike's lithium battery pack delivers a 10-20 mile range per charge with a charge time of 3 hours from empty to full.
The Liberty Trike has many other unique features, including:

Made in the USA Frame by Worksman Cycles
Patent Pending Folding and Separating Hinge
Custom Chromoly Fork
Speed-Limited Reverse (3MPH)
Large LCD Dashboard Display
Low Step-Through Design
Narrow 25" Rear (easily navigate doorways)
Wide 16" x 2.5" all around
Front Disc Brake
Rear Coaster Brake
Quick-Release Handlebars
Quick-Release Comfort Seat
Comfort Grips
Parking Brake
Lightweight Rear Basket
The Liberty Trike was created because of the many requests and suggestions Electric Bike Technologies received from their popular E-TrikeKit™, a retrofit tricycle conversion system, customers. With their encouragement, Electric Bike Technologies spent the last 12 months transforming that feedback from concept into reality to develop the Liberty Trike electric adult tricycle.
"We are introducing the Liberty Trike on Indiegogo to prove that the market for electric trikes is enormous," said Jason Kraft, CEO of Electric Bike Technologies. "We're giving early backers the exclusive opportunity to reserve one of the very first Liberty Trikes to be produced in the USA, at a steep discount."
The crowdfunding campaign is limited to 500 total trikes and the trike will be offered for $999 to its first 50 backers; this exclusive price is 50 percent off of its MSRP. Unlike other recent crowdfunded e-bikes offered worldwide and shipped direct from Chinese suppliers, Electric Bike technologies is limiting backers to USA delivery only and shipping its limited run of electric trikes from its headquarters in Pennsylvania.
For more information about the features, visit http://www.libertytrike.com or email olivia(at)libertytrike(dot)com.
About Electric Bike Technologies
Electric Bike Technologies specializes in developing, manufacturing and distributing affordable high-quality electric bicycle drive systems, motors, batteries and components. The company has earned a reputation for delivering the best value and best user experience in electric bike conversion with their flagship product the E-BikeKit™ and E-TrikeKit™ brand conversion kit systems. With strong manufacturing partners in the U.S. and Asia, a fast growing network of authorized dealers and a reputation for outstanding service, Electric Bike Technologies is committed to advancing the use of electric bikes. For more information, visit http://www.libertytrike.com.