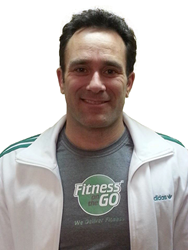 Toronto, Ontario (PRWEB) August 27, 2014
When Jagger was 20 years old and at university, he remembers getting a call from his mother; one that he credits as one of the most memorable phone calls he has ever received. His mom had news that she could set him up with a summer job; one working at a camp supporting people with disabilities. Jagger took that job, and he has now spent the past 22 year working with the disabled. Throughout these past two decades, he also worked in school boards, employment programs and youth homeless shelters. He is grateful for these experiences, as they have taught him the most basic and purest values in life: patience, loyalty, innocence, compassion and finally, living in the presence of these beautiful, inspiring souls, Jagger kept his spirit young at heart. He genuinely believes that it is our responsibility to make a difference in the world. Last year he was featured on the Oprah Winfrey Channel's show "Life Story Project;" where he brought four of his special friends with him to take part in a conversation about loyalty.
Jagger tried a 30-day challenge promoted by a health company, however he succumbed to a few cheat days. Giving it another shot, he then decided to embark on a 90-day challenge. As a result of his commitment, he was rewarded as a FINALIST for this particular 90 Day Challenge. It became very clear to Jagger that he wanted to inspire others to live a healthy, happy life and encourage them to putting their health at the top of their priority list. Wanting to express himself more in the world, Jagger left behind his work with underprivileged youth, and began to pursue a career as a personal trainer. He still has many special friends in his life, and socializes with a group of mentally challenged young adults every week. Sometimes they catch a sporting event, head to Wonderland for a day of coasters, or to simply meet for lunch.
Jagger's first job as a personal trainer in Toronto was at a large fitness chain, where he immediately realized that this was not what he had envisioned. He did not like working in the same walls and workspace for 12 hours a day and felt that the support from management was more about corporate life than actual training. More importantly, trainers only received about 30 percent of what the client was charged. Jagger could not connect with this, or reconcile it with his moral and spiritual paths.
He only lasted a month with the chain, before his journey as a personal trainer took him elsewhere. This time, Jagger was a little more careful and investigated many options before deciding to commit. This is when he stumbled across a company called Fitness On The Go. He knew that Fitness On The Go trainers traveled to client's homes. He reached out to Fitness On The Go and discovered that the company could offer him everything he wanted as a personal trainer.
Jagger really appreciated that he earns more than 90 percent of what the customer is charged. He also receives free business coaching from his general manager and president of the company. He has plenty of free time, which allows him the time and energy to spend pursuing other projects, personal development, or simply enjoying free time during the middle of the day to spend outside with his dogs. Jagger gets to connect with local businesses in neighbouring communities. Since Fitness On The Go specializes in 'In Home Personal Training,' he gets to go directly to clients home and truly meaningful relationships with them. Jagger lives downtown, and works in throughout Liberty Village, City Place and Harbourfront communities. He loves being greeted by clients pets each time he arrives, he is able to look into clients kitchen cupboards and have discussions on nutrition, he gets to take clients to their neighbouring park and enjoy a workout with nature on sunny days, he meets his clients in Kensington Market to set them up with all the new superfood and spices he has been taught to appreciate as healthy eating choices, and most importantly, he loves having his clients invite him to join them in social activities to meet their friends and family.
"Working with Fitness On The Go gives me the freedom to express myself genuinely and authentically with clients and put the 'personal' in personal training. Developing real, honest and inspiring friendships with my clients is exactly how I want to live life as a personal trainer."
Inspired by the philosophies behind meditation and yoga, Jagger encourages his clients to prioritize attention to their breathing during a workout. He teaches clients to "count breaths, not reps," so that they can practice living in the moment, have their breath dictate the rhythm or motion of an exercise, allowing the body to work in harmony with breathing.
"We put our bodies through enough stress during an exercise routine. We don't need to add the extra stress caused by short breaths, grunting, and the tightening up of neck and facial muscles while performing exercises. My clients feel a significant difference in their body control and harmony within, while practicing my 'count breaths, not reps' approach to fitness."
Jagger's mission as a personal trainer is to encourage people to recognize that personal training and fitness are a great opportunity to relax, and meditate while enjoying a great workout.
Fitness On The Go is an in home personal training company dedicated to helping people reach their fitness goals. Fitness on the Go helps clients enjoy a healthier lifestyle by maintaining or increasing their activity levels while keeping clients motivation levels high and on track by making sure they complete a safe and effective fitness workout in the privacy of their own home. Fitness on the Go operates throughout Canada with over 100 personal trainers.