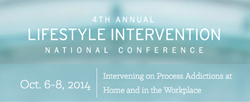 Addictions more than coexist; they interact, reinforce, and become part of one another. They become packages.- Dr. Patrick Carnes
Nashville, TN (PRWEB) May 29, 2014
The Lifestyle Intervention Conference has announced its lineup of keynote presenters for their 4th annual event this October 6-8, 2014. LIC 2014 will return to the Bellagio Resort & Hotel, home of the world-famous dancing fountains, located in Las Vegas, NV. This conference will focus on providing education and resources for mental health professionals who work with families and individuals facing chemical dependency and process addictions. Attendees will have an opportunity to earn 18 CEUs while learning from esteemed experts in the field of addiction. Tracks have been designed to target four key areas: Advanced Intervention Training; Food Disorders; Love, Sex & Relationship Addictions; and Employee Assistant Professionals (EAP) Training.
Industry expert and keynote speaker, Dr. Patrick Carnes, said "Addictions more than coexist; they interact, reinforce, and become part of one another. They become packages. The different types of addiction interaction will be discussed and presented with appropriate treatment strategies for each emphasizing effective diagnosis, assessment, and treatment for addiction interaction." Studies show that up to 42% of those suffering from a substance abuse problem also have a sex addiction. Likewise 22-38% of individuals with an eating disorder are also battling sex addiction.
Two keynote sessions will be offered each day followed by 4 concurrent workshops allowing attendees to receive training on a variety of topics. Keynote sessions begin each day at 8:30 and 1:30 pm in the Tower 5 Ballroom. The principal speakers are
Dr. Patrick Carnes will discuss the need to look deeper, with scientific and clinical lenses, to understand more clearly the morphogenic weaving of compulsive and addictive patterns. Understanding the connection between achievement and addiction are critical for successful intervention and treatment of multiple issues.
Claudia Black's presentation offers a focused approach to treatment and relapse considerations in working with female clients. She will discuss clinical issues ranging from childhood trauma, to co-occurring complexities and the multiple addictive disorders that are prevalent.
Thomas Broffman aims to address the issues surrounding problem gambling and, in particular, how this relates to workplace gambling policies. With a focus on the new DSM-5 diagnostic criteria for signs, symptoms, and assessments, this session will be full of resources for clinicians.
Ralph Carson has been involved in the clinical treatment of addictions, obesity and eating disorders for more than 35 years. He blends anecdotal evidence and hard science to explain why focusing on health habits and achieving one's "natural size" is the best solution for addressing heart disease, diabetes, and cancer.
Debra & Jeff Jay will launch a ground-breaking new book at this event with an accompanying presentation to define Structured Family Recovery, a comprehensive recovery system for the whole family.
Cardwell Nuckols has been described as "one of the most influential clinical and spiritual trainers in North America." His keynote, The Art and Science of Healing, will explain the neurobiology behind the therapist and patient relationship as he helps participants to take advantage of their natural healing potential
To register for LIC 2014, visit the conference website, http://www.lifestyleintervention.org or call 800-508-1489. An early bird registration rate is available now for only $429. Student and senior discounts are also available. The registration fee covers all CEU sessions in addition to breakfast, lunch, and 2 coffee breaks each day. Use code LICPRESS to save 20%.
Sponsorship and exhibit opportunities are also available. Interested agencies should contact the events department for details, events(at)lifestyleintervention(dot)org or 888-608-6542.
Contact Information
Lisa Marasco, Senior Event Planner at American Addiction Centers 615-603-9228
The Lifestyle Intervention Conference continues to be the most critical, industry-changing event to impact the health and wellness communities in decades and is the fastest-growing event in the nation to address the issues surrounding process addiction and addiction interaction.