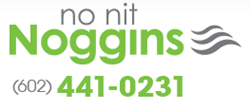 We've helped many families win the battle against lice and their eggs. We offer confidential pediatric recommended services in our state of the art head lice treatment center in North Scottsdale, and we can treat up to four family members at the same time
Scottsdale AZ (PRWEB) September 26, 2014
No Nit Noggins, a head lice treatment center that also offers helpful lice information in Scottsdale Arizona, is proud to announce that throughout the month of September, they are offering free head lice checks. In honor of National Head Lice Awareness Month, No Nit Noggins is providing the complimentary head checks from 12 to 2 p.m. every Monday through Friday at their Scottsdale treatment center.
In addition to the head checks, No Nit Noggins is also offering 10 percent off their products that can be used to help alleviate head lice. This includes their line of all-natural repellent sprays, shampoos, conditioners and the appropriately-named terminator comb.
For local parents who need to find a lice removal center in Scottsdale AZ, No Nit Noggins is ready and able to help. They offer an innovative and effective treatment called AirAlle' (TM), which can help to get rid of head lice in a safe and quick way.
"We offer Professional Head Lice Removal Services using only the most advanced and safest technology," a company spokesperson for the lice prevention in Scottsdale Arizona company noted, adding that the FDA approved AirAlle' device applies "Heated Air" over a 30 minute time period that helps to dry out and kill the lice, along with a 20 minute comb out to remove dead nits/lice.
"We've helped many families win the battle against lice and their eggs. We offer confidential pediatric recommended services in our state of the art head lice treatment center in North Scottsdale, and we can treat up to four family members at the same time."
Unlike over-the-counter shampoos, which the spokesperson said can be difficult to use and requires parents to spend hours carefully combing out all of the eggs and lice, the AirAlle' technique is extremely effective in kids over the age of 4.
Anybody who would like to learn more about No Nit Noggins is welcome to visit their user-friendly website; there, they can read more about the AirAlle' process as well as their other natural anti-lice products.
About No Nit Noggins:
No Nit Noggins offers the latest and safest head lice removal technology available. Those who are suffering from head lice can be rest assured that they will kill head lice and the eggs in one single "30 Minute" AirAlle' (TM) treatment, naturally without the use of harmful chemicals. For more information, please call 602-441-0231 or visit http://nonitnoggins.com/