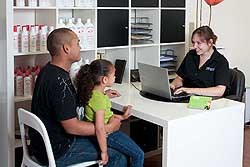 Burlingame, CA (PRWEB) September 26, 2013
School is back in session and many parents fear that their child will come home with more than an outstanding report card. The fact is, everyone with hair can catch head lice. In school, children are in close proximity with each other and share everything from lockers to hats. If one child in class has lice, it is not uncommon for everyone to start to itch, and for parents to worry that their child has caught it too.
For this reason, Hair Spies is offering complimentary head lice checks at their salon located at 1419 Burlingame Ave, Suite T in Burlingame, CA. The salon is open seven days a week from 10 a.m. until 6 p.m., walk-in check ups are easy and convenient, and you can also schedule an appointment by phone. Just request a dry check when you call.
The free head lice check takes less than five minutes and families are welcome to return as many times as they wish. Hair Spies, Inc. is a pressure-free environment with toys, books, games and free Wi-Fi so the whole family can relax while they wait.
Hair Spies, Inc. is also available to come to a child's school or other location to perform the checks. Arrangements can be made by calling 650-340-9000 between 10 a.m. and 4 p.m. daily. Hair Spies can check up to 125 children per hour to keep from disrupting the school day. One hour educational discussions can also be arranged to inform parents and teachers about effective treatment and the best way to minimize the spread of head lice.
The longer a case of head lice goes untreated, the more severe, and therefore contagious, it becomes. Proper treatment is needed to eliminate lice from the head and objects that have come in contact with the child. Other students also need to be aware of lice in the classroom so that they can take the necessary precautions.
Hair Spies offers a variety of organic and non-toxic products to successfully treat both the child and the family. Natural ingredients allow these products to be used around the home on furniture and other hard to clean areas.
Good luck to all the families and schools out there this Fall.
About the company:
Hair Spies is the only head lice removal salon in San Mateo. They offer the safest options in natural lice treatments for head lice using organic, non-toxic products. A visit to Hair Spies allows clients to relax in the comfort of a private lice removal salon with professional, trained staff. They strive to keep an open, friendly atmosphere by keeping children entertained with toys, books and DVDs while parents can check their e-mail during their child's treatment using the free Wi-Fi service. Any questions about getting rid of lice– from their natural lice treatment process to their organic lice removal products – will be answered by the very knowledgeable staff. Call (650) 340-9000 to make an appointment.