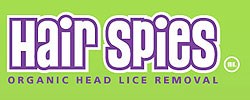 Burlingame, CA (PRWEB) February 14, 2014
Record low rainfalls, and fears of drought make going green in our daily lives more important than ever. Hair Spies, Inc. a local head lice removal salon in Burlingame, CA has three methods for running a green business. First, use and sell only organic products. Second, partner with other green businesses. Third, emphasize the three R's - reduce reuse recycle - in all daily practices.
Using all-natural products is good for the environment, and it is healthier for people too - especially young children who are so often the hardest hit by head lice outbreaks. Most over-the-counter head lice treatment products use harsh, toxic chemicals. Hair Spies products do not kill the lice, because inevitably products that kill lice also introduce toxins into your body via absorption through your scalp. Hair Spies products are repellant to lice, and make combing through the hair and removing nits, a smooth and pain free process. Clients at Hair Spies can feel good about using products that do not harm the environment or their families.
Green daily business practices include emphasizing the use of reusable products. When using disposable products, such as paper, is unavoidable, recycle all waste. Reduce electricity use by turning off computers at night, unplugging chargers, and keeping lights off that are not in use.
Finally, it is also important to partner with other green business. For example, Hair Spies, uses a green laundry service, and purchases recycled and refilled printer ink cartridges from a specialty company.
For more information about Hair Spies or their efforts at environmental conservation, visit their website at http://www.hairspies.com/.
About the Company:
Hair Spies is the only head lice removal salon in San Mateo. They offer the safest options in natural lice treatments for head lice using organic, non-toxic products. A visit to Hair Spies allows clients to relax in the comfort of a private lice removal salon with a trained staff. They strive to keep an open, friendly atmosphere by keeping children entertained with toys, books and DVDs while parents can check their email during their child's treatment using the free WiFi service. Any questions about getting rid of lice – from their natural lice treatment process to their organic lice removal products – will be answered by the very knowledgeable staff. Call (650)340-9000 to make an appointment.