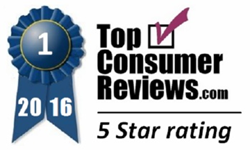 Licenex provides effective relief from Lice, from hair to linens... (they) readily deserve our top rating for Lice Relief.
Overland Park, KS (PRWEB) August 16, 2016
TopConsumerReviews.com recently gave their highest rating to Licenex, a leader among products used to deal with Lice infestations.
Lice infestations are a common occurrence in the United States, with more than 12 million children and their households affected each year. Addressing the problem can be time-consuming and costly, as an effective lice product must eliminate not only the adult, visible insects but also their eggs and larvae as well, in order to prevent re-infestation. The best products kill lice at all stages of the life cycle, in as few applications as possible.
"Licenex provides effective relief from Lice, from hair to linens," explained Brian Dolezal, of TopConsumerReviews.com, LLC. "The product works by using biological enzymes to not only kill adult insects but also to dissolve the 'glue' that keeps nits attached to the hair shaft. Furthermore, Licenex's safe, pesticide-free formula can be used as a spray for carpeting and furniture, or even added to the wash to eliminate Lice that may be hiding in bedding or clothing. Best of all, Licenex offers a 60-day satisfaction guarantee, giving customers more than enough time to see the product's effectiveness for themselves. Licenex readily deserves our top rating for Lice Relief."
To find out more about Licenex and other Lice Relief products, including reviews and comparison ratings, please visit the Lice category of TopConsumerReviews.com at http://www.topconsumerreviews.com/lice/.
About Licenex
Licenex is manufactured by HelloLife, a leading healthcare product company that strives to provide safe, natural and effective solutions that empower individuals to choose a healthy lifestyle every day. HelloLife solutions are revolutionary in simplicity and safe for everyday use. Their products and services work in synergy to provide comprehensive, all natural support for a healthy lifestyle. HelloLife is headquartered in Grand Rapids, Michigan.
About TopConsumerReviews.com
TopConsumerReviews.com, LLC is a leading provider of independent reviews and rankings of hundreds of consumer products and services. From Lice Relief to Stress Relief and Pet Insurance, TopConsumerReviews.com delivers in-depth product evaluations in order to make purchasing decisions easier.