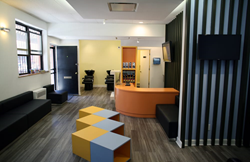 Rated the #1 Lice Removal Service in the country by the NY Times and WSJ plus 30+ years of experience
BROOKLYN, N.Y. (PRWEB) October 29, 2018
Lice Busters, the first lice removal service in the country, has opened a new lice treatment center in Park Slope, Brooklyn. The beautifully designed and child friendly salon is located at 145 Sterling Place between 7th avenue and Flatbush ave, (right off the corner of 7th Ave) .
Being Rated the #1 Lice Removal Service in the country by the NY Times and WSJ plus 30+ years of experience, we can easily and effectively handle your emergency. Lice Busters has been helping families, schools, camps and physicians get rid of lice using an all-natural method of conditioner and manually combing out the lice and nits/eggs.
Lice Busters with its 15+ locations throughout the United States is the largest lice removal service in the country. Most of our clients get reimbursed from their insurance company as well.
Hours of Operation are from Sun-Fri 8:00 AM to 11:30 PM, Sat we are closed. Appointments and Walk-ins are welcome!
For more information on the new Lice Busters location, or to set up an appointment, call (347) 276-0016 or 1-718-360-1830, or visit http://www.LiceBustersNYC.com today.