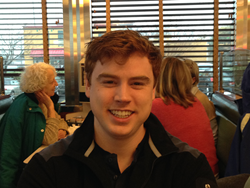 I love it. We get to help families in crisis, we have a flexible schedule and I own my own bsiness, which has always been my dream.
(PRWEB) May 12, 2015
The thought of having Lice Happens run in the family may cause the squeamish to conjure up an unpleasant image, however, for the Byram family, Lice Happens is a growing business that has now stretched into three states. When Peter & Audrey Byram purchased the franchise rights for Lice Happens in Central & Northern NJ, both of their sons, Kevin and Peter were interested in working part-time to earn some money during school. What came next was a pleasant surprise, as both boys decided to open locations in different parts of the country.
It was very exciting for Co-Founder, M.J. Eckert to welcome her nephew, Kevin into franchise ownership. Kevin and his girl friend, Jamie, have just recently launched the franchise business in Boston, Massachusetts. The couple will initially concentrate on the greater Boston Metropolitan area, but hope to expand into other counties over the next 5 years.
M.J. is not surprised by the success that her brother and family have had in the first two years of operations. "They are terrific franchisees and have followed our model as prescribed, and we know that Kevin & Jamie will be hugely successful in the Boston Metropolitan area."
Kevin has been working in his parents business since 2013. "I love it. We get to help families in crisis, we have a flexible schedule and I own my own business, which has always been my dream," said Kevin. "We are always telling parents that they should not feel embarrassed by the fact that their child has head lice. Our goal is to educate parents and provide helpful information if they do end up getting that dreaded call from the school nurse."
Co-Founder, Nancy Fields has helped build an executive franchise model that has had tremendous growth in the past 24 months. "We have a home based, low-investment franchise that provides a service that parents need. We are so excited to have Kevin and Jamie in Boston, as there are a limited number of companies offering in-home treatment services."
About Lice Happens Franchise
Lice Happens was founded in 2009 by Nancy Fields and M.J. Eckert and is headquarted in Annapolis, Maryland. There are currently 10 company owned locations in addition to 11 franchise territories. The company provides complete in-home head lice treatment and head lice removal services using all-natural products. For additional information on the Lice Happens Franchise Opportunity visit our Franchise Website or call our Franchise Sales Director, John Armatas at 855-844-8377.