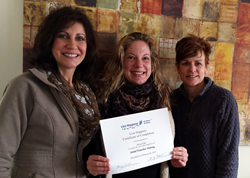 My experience with lice got me to thinking that there must be a better way.
Annapolis, MD (PRWEB) March 10, 2015
The Lice Happens Franchise System has announced that they have signed an agreement with Tracey Fudge to launch the newest franchise territory in Atlanta, Georgia. Ms. Fudge will initially concentrate on Fulton County, but hopes to expand into other counties over the next 5 years. You can read more about Tracey and her plans on our company blog.
Co-Founder, Nancy Fields is not surprised by the growth in the franchise system. "We have a low-investment, home based franchise that provides a service that parents need. We are so excited to have Tracey in Atlanta, as there are a limited number of companies offering in-home treatment services."
Tracey has devoted her entire career to corporate sales before deciding to go out on her own. "My children had head lice and their friends had head lice. The horrible experience with my children's head lice got me thinking that there must be a better way." That experience started her search for a franchise-related lice treatment business. "I really did not want to purchase a brick and mortar lice treatment franchise opportunity, Lice Happens was the perfect fit as it was a mobile service that I could scale over the next few years."
Co-founder, M.J. Eckert is focused on spreading the "No Shame. No Blame" message. "There is just so much information out there that is not true. We are always telling parents that they should not feel embarrassed by the fact that their child has head lice. Our goal is to educate parents and provide the right information if they do end up getting that dreaded call from the school nurse."
ABOUT LICE HAPPENS FRANCHISE
Lice Happens was founded in 2009 by Nancy Fields and M.J. Eckert and is headquarted in Annapolis, Maryland. There are currently 10 company owned locations in addition to 11 franchise territories. The company provides complete in-home head lice tratment and head lice removal services using all-natural products. For additonal information on the Lice Happens Franchise Opportunity Visit Our Franchise Website or call Our Franchise Sales Director, John Armatas at 855-844-8377.