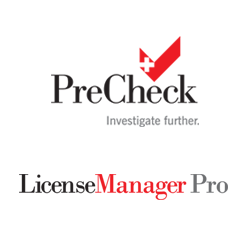 As LicenseManager Pro continues to grow, we will continue to strive to ease the license management challenges faced by healthcare facilities.
Houston, TX (PRWEB) February 04, 2014
PreCheck, Inc., a leading background screening firm exclusively serving the healthcare industry, recently updated its healthcare license management and monitoring software. Formerly known as CredentCheck, PreCheck's healthcare license management system has been rebranded as LicenseManager Pro™. LicenseManager Pro has an improved user interface, and healthcare organizations have access to the same features and benefits offered by prior editions of PreCheck's healthcare license management software.
"We are excited to announce the release of this update to our healthcare license management system," stated Dionne Austin, Product Manager for LicenseManager Pro. "We owe our continued success to our clients, as they have shared their ideas for the evolution of our product during the past seven years. As LicenseManager Pro continues to grow, we will continue to strive to ease the license management challenges faced by healthcare facilities throughout the country."
PreCheck's LicenseManager Pro healthcare license management software was originally built specifically to address the needs of one of the nation's leading healthcare systems and is now available for healthcare human resources departments nationwide. PreCheck's software tracks the status and authenticity of professional healthcare licenses and certifications, providing healthcare organizations with a centralized process for keeping staff credentials current.
"As we work on expanding the capabilities of the system, we wanted the name to represent more than just checking a license, but also convey that it is a full-service management system for notifying employees about expirations, notifying management about license deficiencies, alerting leadership to board actions and for the management of non-verifiable certifications," stated Zach Daigle, PreCheck's President and Chief Operating Officer. "We felt that LicenseManager Pro more adequately reflects this and we are excited for our customers to experience the new interface."
With this release, PreCheck remains committed to providing a superior client experience. The healthcare-exclusive employment screening firm's product enhancement road map for 2014 includes enhancements for PreCheck™, StudentCheck™ and SanctionCheck™ as well. For more information about PreCheck's license management software, call 866-255-9449 or visit http://www.precheck.com.
About PreCheck, Inc.
Founded in 1983, PreCheck, Inc. has focused exclusively on serving the healthcare industry's background screening and employment qualification needs since 1993. PreCheck serves over 3,000 hospitals, long-term care facilities, clinics, educational institutions, and other ancillary healthcare organizations, across the U.S. PreCheck has evolved over time from a background screening provider into a turnkey outsourcing solutions provider, offering a full suite of background screening, compliance, and credentialing solutions all designed to help its clients adhere to the complex laws and regulations governing the healthcare industry. Based in Houston, PreCheck was recognized as a 2013 Inc. 5000 company and is recognized as Background Screening Credentialing Council Accredited by the National Association of Professional Background Screeners.