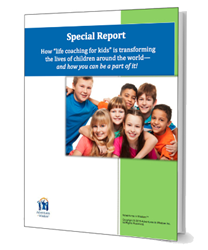 Kids spend thousands of hours learning their 1-2-3s and A-B-Cs, but most never learn the life skills critical for creating happiness, confidence, and success in their lives.
Austin, Texas (PRWEB) September 16, 2015
Adventures in Wisdom announces the release of a free Special Report, "How Life Coaching for Kids is Transforming Children's Lives around the World – and How You Can Be a Part of it!"
The need for life coaching for kids has never been greater. According to a 2014 report from the World Health Organization, depression is the leading cause of illness and disability for children and teens, worldwide. The statistics are even more staggering when you consider the report found suicide to be the third leading cause of adolescent deaths (behind traffic accidents, and HIV/AIDS).
"When faced with challenges or disappointments, most kids don't have the tools to handle them. As a result, kids often get down on themselves or give up on themselves—developing belief systems that can hold them back for the rest of their lives," shares Renaye Thornborrow, founder and CEO of Adventures in Wisdom Inc. "Our life coaches for kids, called 'WISDOM Coaches,' use stories and activities to help kids develop powerful mindset skills to bounce back from these challenges and to support kids in reaching their fullest potential."
And the proof is in the report. The special report shares comments from WISDOM Coaches, parents, and children about the power of life coaching for kids. It also answers common questions such as:

How does coaching kids differ from coaching adults?
How does life coaching differ from counseling?
What is the most effective way to work with children?
And most important, does life coaching for kids really work?
One of the stories you will read about is the story of 6-year-old "Jacob". Jacob had received a zero on his conduct report, every day for a 2-month period, before he started working with WISDOM Coach™, Dianea Phillips. Using stories from The Adventures in Wisdom Life Coaching Program for Kids Curriculum™ and her coaching skills, Dianea helped Jacob realize that he could be the "pilot of his own thoughts" and that he was not a "zero" — zero was a number, and not him! Through life coaching, Jacob was able to regain his self-esteem and turn things around in the classroom.
With coaches on 6 continents and over 30 countries, Adventures in Wisdom's certified WISDOM Coaches are transforming children's lives around the world! And they use the WISDOM System for Coaching Kids™ to do that.
The WISDOM System is a proven system that uses stories and activities to take kids through six areas of development:
Developing a mindset for happiness, confidence, and success in life
Developing powerful self-esteem that doesn't rise and fall with the ups and downs of growing up
Learning to move through anxiety and fear to create courage and self-confidence
Learning to think for themselves, make good decisions, and stand up to peer pressure
Developing resilience so they can bounce back from mistakes and disappointment (and create happiness and success regardless of their circumstances)
Learning to become self-leaders of their lives so they live life with intention and go for their goals
WISDOM Coach™, Nilay Karatosun, shares her experience, "Becoming a WISDOM Coach™ means that you will have the tools and resources to powerfully support young children in ways that will positively affect them for the rest of their lives....You will be surrounded by a very supportive community of coaches who are committed to learning from each other and sharing ideas."
To learn more about life coaching for kids download a free copy of this special report at: http://www.adventuresinwisdom.com/special-report-for-coaches.